roscoe wrote:
lovuian wrote:
In Vodou, it is believed that a common depiction of Erzulie has its roots in copies of the icon of the Black Madonna of Częstochowa,
brought to Haiti by Polish soldiers fighting on both sides of the Haitian Revolution from 1802 onwards
The Gypsies
Some Romanies migrated from Persia through North Africa, reaching Europe via Spain in the 15th century. The two currents met in France. Romanies began immigrating to the United States in colonial times, with small groups in Virginia and French Louisiana.
When I was at Rosslyn my tour guide told me Sinclair often had the gypsies stay there once a year
The citizens of Beziers chose to stay put and protect the Cathars. One local commentator writing in 1213 said they would rather 'die as heretics than live as Christians'. On July 22, Mary Magdalene's Feast Day, the Pope ordered the extermination of every man, woman and child within the city gates of Beziers. One crusader of conscience was said to have asked a superior how they were to tell Cathar from Catholic. The reply was direct and chilling: 'Kill them all. God will know his own'.
This is a Vodou charm for Erzulie
Look familiar
Sorry Lov I meant to comment on this. Interesting link with the Vodou charm.
The Gypsies congregate at
Wewelsburg
. Himmler's occult castle and headquarters of the SS.
http://en.wikipedia.org/wiki/Black_Sun_(occult_symbol
)
SS marriages were carried out here. Himmler was in the Rennes le Chateau area during the 1930s.
An interesting read is
CATHEDRAL OF THE BLACK MADONNA Druids and the Mysteries of Chartres
by
Jean Markale.
Markale
gets attacked here. Consequently he immediately comes into the
'must read'
category as far as I am concerned.
'The Lady doth protest too much methinks.' - Hamlet
Now you know where I'm coming from on this.
Well heck sorry having computer problems
The Black Sun in Mesoamerican mythology has many mystical meanings, among them it is connected to the god Quetzalcoatl and his penetration in the Underworld through the west door after his diurnal passage on the sky. For the Mexicas there were two suns, the young Day sun and the ancient sun, the Dark sun. Some scholars regard the mythological Black sun as the ancient female origin of all, it is both tomb and womb. This way, it is the oneness that uniformly integrates unawareness, death, and yet an expectation of fecundity.
he Aztecs associated the passage of the Black sun, on its nightly journey through the underworld with the image of a butterfly
the butterfly is used by the church also
found this in America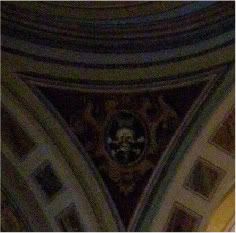 The butterfly, in turn, it is an archetypical symbol of the transcendent soul, transformation and mystical rebirth,
whereas also seen in the figure of the frightening earth goddess Itzpapalotl, the "Obsidian Butterfly", that devoured people during the solar eclipses
he connection with nocturnal elements also it is ascribed to the god Tezcatlipoca, son of the primordial god Ometeotl who was a god of dualities such as light and darkness
At archeological scenes, the Plumed Serpent shows a man with a black sun within a yellow sun. In this manner the spinning of the sun and black sun shows a wheel crossing with a obfuscatory motion where four black rays move out of four yellow rays
According to some authors, these sets of four rays relate to the four cardinal points and the four quarters, they represent the governance held by the gods of human race since its infancy, as well as the annual rotation of the heavens, and the universal rulership portrayed in the great dance called "Mitotiliztli", which reproduces the appearance of a wheel
http://en.wikipedia.org/wiki/Black_Sun_%28mythology%29