richard.webster wrote:
lovuian wrote:
I just know of Haywood's apocalypse belief of a "deluge" which he talked about in Bloodline
in the book of Howells is there more expansion on this

Richard I'm open to talk about it
especially since we approach the 2012 Maya Calendar ending
I'll try, lovuian, but you're going to be way ahead of me on this sort of subject.
In answer to your question, yes, there is quite a bit more in the book about this, though from memory - and when I read it again, I might be able to add more - I think it's more a case of Rob Howells speculating as to what Haywood might be getting at, rather than Haywood expounding on it himself. He does talk about it more in his radio interviews, to which I've added a link below (scroll through the schedule index and you'll find the various shows he's appeared on), but more about the idea of a new messiah emerging after the apocalypse, and he tends to be quite evasive when asked anything specific about either the event itself, or what might follow it. He claims to know the date when it will happen - "in our lifetime" - but will not disclose it, because of the mass panic it would presumably engender, and claims that there are a small number of locations in the world, all mountain ranges, where one might find a place of safety.
http://www.latalkradio.com/Rene.php
Completely and utterly barmy, imho, but that is what the man appears to believe.
Why should this be, I wonder? Because, looking at this from the perspective of someone claiming to be a spokesman for the PdS, I can't think of any precedent at all in any PdS documents, or statements or interviews from the Plantard era that would suggest such a thing; it doesn't appear to form any part of their thinking at all. Except, I suppose, it has some echo in the PdS ideas about a
roi perdu
, lost king, which one might see as some second coming type figure, some messiah that emerges out of the global wreckage to lead the chosen few to a place of safety, etc. I believe in that happening even less than I believe in an apocalypse happening, but in terms of trying to understand Haywood, one could maybe make a case for belief in an apocalypse coming from the same tradition as belief in a
roi perdu
. Maybe?
As it happens, there is a whole chapter on armageddon and biblical prophecy in the HBHG sequel "Messianic Legacy", which I just flicked through for the first time in a long time, but it forms part of a long section on general religious themes, and no specific connection is made back to the PdS, although the authors do speculate about a
roi perdu
character in their conclusion to the book. I do also recall some talk of Plantard's, maybe in that book, about the apparent significance of the end of the age of Pisces and the start of that of Aquarius. I think, in literal terms, the word apocalypse comes from epoch, or era, does it not? So maybe some connection there, possibly.
In terms of precedents for apocalypse theory within the Rennes story more generally, then there is of course the book by the late Elizabeth van Buren, "Refuge of the Apocalypse", which I dare say Haywood has read, and there is also, in that book and elsewhere, the idea of a portal, some doorway to another dimension, in the landscape around Rennes, an idea I find more interesting and persuasive than that of apocalypses and second comings, but the two things could quite easily be woven together, if one was of a mind to. So that may form part of his thinking as well.
Or it could just be cynical exploitation of all the 2012 hysteria, that will probably get worse and worse as this year goes on. But he seems to genuinely believe it, as do a lot of religious fundamentalist types as well of course, but to be fair, he doesn't really strike me as that sort of person, so who knows where his idea about this comes from. All very odd.
Thanks Richard
your an incredible source and thanks for the links
Richard
Quote:
Anyway - breaking news - in the last radio interview I heard him give (he's appeared quite a lot on Rene Barnet's radio programme, where he seems to be aquiring "Friend of the Show" status) he claimed to have had a bit of a falling out with his PdS colleagues, and may now be shunned as a result. Make of that what you will ...
I'm not surprised at this breaking news Richard
If you remember Plantard resigned as Grandmaster and he made reference that the American side of the PDS
did not like what he was doing
this is just speculation but perhaps the American side is not happy with Haywood
either
The "Underground Church" has documentation...the history goes back to the Revolution and the church had to go underground to survive...they were guillotining the clergy
She was the last to be killed at the guillotine
Sr MAGDALEN FONTAINE
The women are the back bone of the underground church
Howell's and Haywood inference about women's position in the church
is I believe part of this underground current
America is where they went to escape ...there is documentation and I know a member of it
I can also say that a Apocalyptic ...or Revelations type of myth is part of their story
And that is understandable when your clergy are being tortured and killed like the martyrs in Roman times
Rome eventually collapsed
I don't know if Magdalene and Jesus were married but I believe she was a Disciple and a Apostle of the Apostles
in other words a woman has a right to be seated next to Jesus as some believe is shown in Da Vinci's Last Supper
whether she is factual or not ...she deserves a seat there
that is why you see the Da Vinci Last Supper carved into the altars
It also could be a reference to the celibacy law...that perhaps they saw the church's downfall because of it
New Orleans
but Vatican II hid them by placing another altar so the Priest could face the congregation
coincidence?
The Nuns in America owned land and hospitals and orphanages
They were the major teachers of young women in America
This is one of my favorite pictures it was taken at Arcadia MO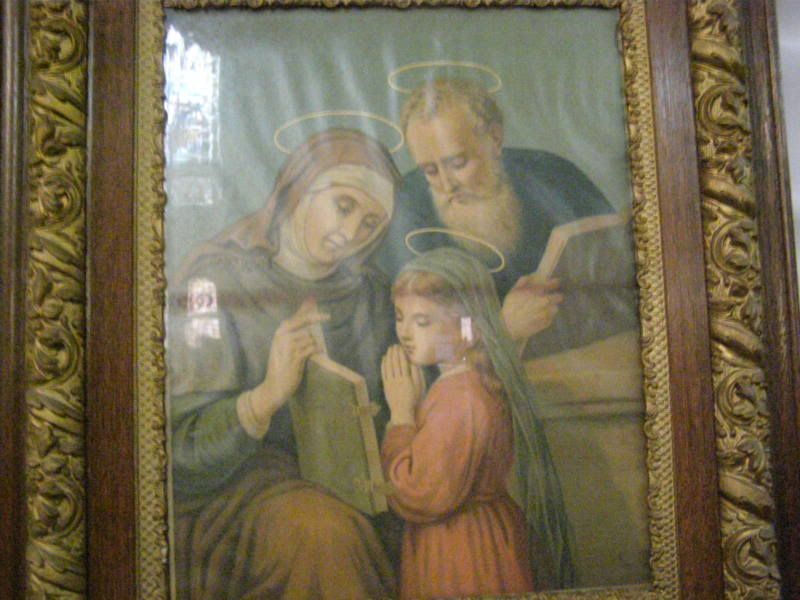 What do I see? Mother Mary being taught to read by her Mother and Father
It seems so simple doesn't it but so profound
Howell and Haywood point out
what I see too
Women's role in the church
and that had to do with
Women's EDUCATION....changed the world....
As far as the Apocalyptic part
that the Vatican would fall ....comes from Saint Malachy ..or some say Nostradamus
but getting back to Leonardo Da Vinci
he had a vision of a Deluge in his writings
http://www.history.com/shows/nostradamus-effect/videos/leonardos-deluge#leonardos-deluge
Sea Water will Rise
Above the High Peaks of Mountains
towards the sky
and then fall down again
Onto the dwellings of man
Da Vinci
It maybe this prophecy or vision that Haywood is looking at
and that maybe indicative to a Tsunamis caused by a major disaster such as a pole shift
predicted by Edgar Cayce
In the Acadian churches they refer to the Second Coming
as for as Elizabeth Van Buren ....she probably believed the Alps and Mountain Peaks would be a haven during
disaster such as a deluge
It is funny this picture is on the movie 2012
Just remember you were warned
like you said it plays into the 2012 mystique rather well
I don't know the answers but I have lots of questions
...thanks Richard for your insight
as for Haywood he is a great Alchemist....He is very interesting to listen too