Renne wrote:
Thanks Richard, I`ll check out those links. I saw your photos of the long barrow, I remember that there are crop circles

from West Kennett. Have you seen that 1st crop circle from August? - now that one does look man-made.
Yes, I agree, it's very basic, not that big. It's this one:
http://www.cropcircleconnector.com/2011 ... 2011a.html
I drove past it earlier today. It's not that far back from the road, about mid-way between Silbury Hill and West Kennett Long Barrow. I didn't think it was worth a closer look, though there were a number of people in there.
I also saw it later on, in the distance, from the top of Windmill Hill, though not the two made here earlier in the summer, assume they're no longer as they'd been harvesting a lot round there.
I did though manage to get scammed by a fake circle.
I was on the south side of Windmill Hill and there was a sign pinned to the fence of a vast crop field, saying please don't climb over to go and look at the crop circle, but go down the track a bit and use the gate (quite subtle, that part, made it seem more genuine), and the gate had an honesty box padlocked to it ...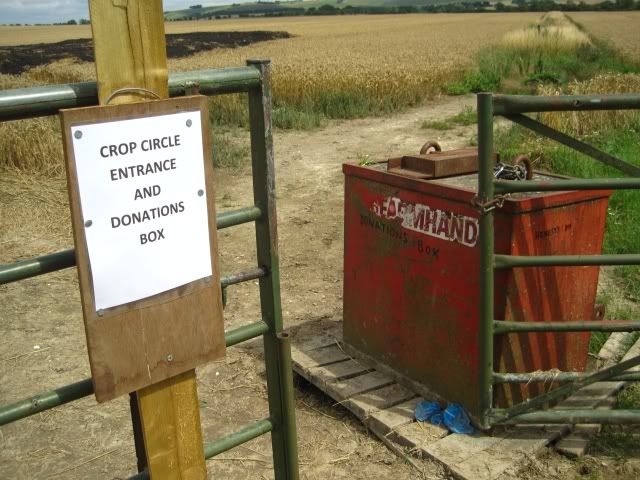 ... but no sign of any crop circle. But it was such a large field, and thinking it might be out of my line of sight, I put a pound in (I was going to put a bit more in on the way back if I'd found it and it had been any good) and followed a grass track that went right through the middle in between the crop, all the way to the far side of the field, and the lie of the land meant I saw every part of it. Nothing at all. So I walked all the way back.
When I got back to the gate I met someone who was leading a crop circle tour (or, driving two people around the Avebury hinterland in the back of a Ford Focus) and had a name badge on saying Circles of something on it, standing there scanning the horizon, but by the time I'd told her that no, her eyes weren't deceiving her, and there wasn't anything there, her two charges had gone haring off down a tramline towards what looked very much like the turning circle of a tractor. Very slightest hint of some disturbance to the crop around where they were, but nothing you'd give a second glance to. Tour guide seemed at a bit of a loss as to whether to call them back or not, but they seemed to be enjoying themselves, and the last time I looked back on my way off up the hill, they were still poking around in there. So I assume a prank by whoever locked that box to the gate. Quite enterprising, I suppose; took me in, anyway.