I've visited Avebury many times over the years, but until a few days ago, I'd never been up Windmill Hill, a neolithic site a mile or so to the north-west of the standing stones. Based on the field notes I've read, particularly on Julian Cope's superb website (see below), I'm not alone in having neglected this little hill, as it is very much over-shadowed by other more celebrated sites in the vicinity, including Avebury itself, Silbury Hill and West Kennett Long Barrow.
But I'm very pleased to have rectified this on my most recent visit, and am putting this up here in part to encourage others like me, who are fortunate enough to live within striking distance of this remarkable neolithic landscape, to make the trip up there themselves.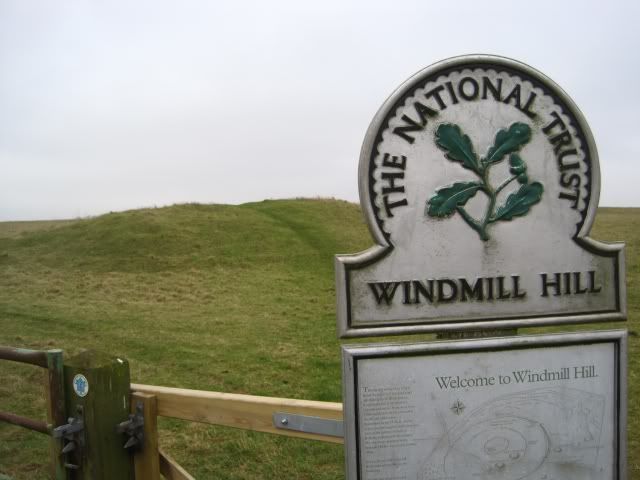 Windmill Hill is easy to miss. It has a spot height of only 196m, similar to Silbury Hill (187m), but unlike that very distinctive mound, it is ascended by the gentlest of inclines, so much so that one would barely know that one was walking up a hill, and scanning the landscape for it from the west side of Avebury village I wasn't even 100% sure that I had pinpointed it amidst the green sea of rolling downland. Fortunately it is well signposted, and a footpath leads there from the village.
Spot the difference. The gentle, barely perceptible incline of Windmill Hill.
And the much more prominent, pyramid-like Silbury Hill, which is nevertheless about the same height.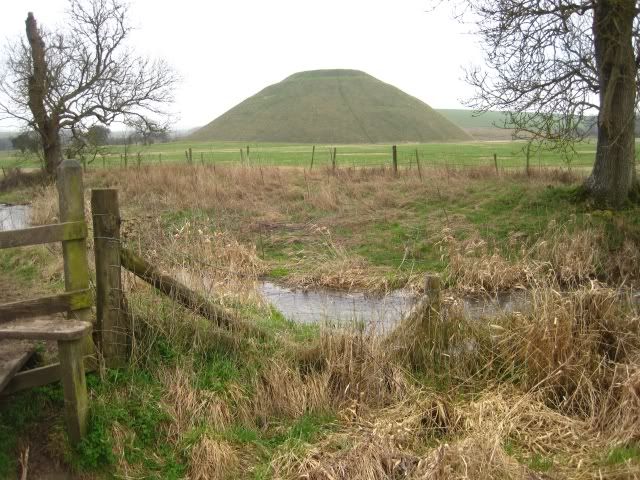 It's believed that the site was first occupied in c. 3,800 BC, some time before the construction of the stone alignments nearby, and around the same time as West Kennett Long Barrow, and it is partly the early date of human activity here that makes the site significant. But its real interest lies in the earthworks that date from c. 3,300 BC, in the form of segmented ditches and causeways. This is why the site is referred to as a causewayed enclosure, or causewayed camp, as it would have been called when it was excavated by Alexander Keiller in the 1920s.
To be honest, this isn't particularly easily discerned from the ground, but the aerial photograph on the English Heritage link below gives a good impression of the huge scale of the task undertaken by our ancestors. The outer ring encloses an area of 85,000 square metres.
http://www.english-heritage.org.uk/days ... mill-hill/
Below, today's inhabitants of Windmill Hill, at the top of one of the ditches.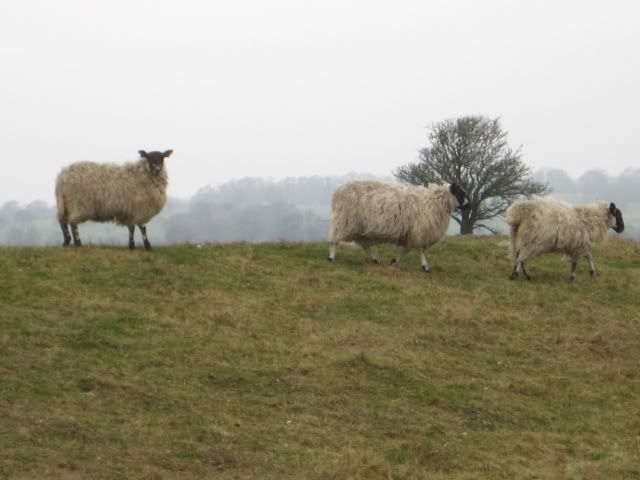 To an untrained eye, such as mine, it's difficult to tell the difference between an enclosure such as this, and other neolithic earthworks, and indeed the attached Wiki article below makes the point that these constructions are not to be confused with ring ditches, which had a funerary purpose, or hill fortifications, which were defensive. One of the interesting points made in the quotation below is the idea that such sites were only occupied intermittently, rather than being permanently settled, and how they may represent a transitional period in the development of neolithic culture. But various possible uses for these enclosures have been put forward, as can be seen. Nobody knows for sure.
Quote:
Archaeological evidence implies that the enclosures were visited occasionally by Neolithic groups rather than being permanently occupied. It is possible that they represent a transitional period in the Neolithic before hunter-gatherer societies finally became fully settled. The presence of human remains in the banks and ditches of the enclosures has been seen as an attempt by the builders to connect their ancestors with the land and thus begin to anchor themselves to specific areas. Longitudinal sections excavated along the ditches by archaeologists suggest that the builders repeatedly redug the ditches and each time deliberately deposited pottery and human and animal bones, apparently as a regular ritual. Environmental archaeology suggests that the European landscape was in general heavily forested when the enclosures were built and that they were rare clearings in the woodland that were used for various social and economic activities.

In the 1970s the archaeologist Peter Drewett suggested seven possible functions for the sites:

Settlement
Defence
Cattle compounds or kraals
Trade centres
Communal meeting places for feasting and other social activities
Cult/ritual centres
Burial sites

Other interpretations have seen the causeways as symbolic of multi-directional access to the site by scattered communities, the enclosures as funerary centres for excarnation or the construction of the site being a communal act of creation by a fragmented society. Some enclosures are better situated for one activity than another and it is unlikely that they served any one purpose.
Here's the link to the whole article. It includes a list of other such sites, mainly in England, but with a few in France and Ireland. Incidentally, the black and white photograph at the top of the page has been incorrectly labelled - this is not Windmill Hill at Avebury, but another site of the same name in Derbyshire.
http://en.wikipedia.org/wiki/Causewayed_enclosure
There are a number of barrows on the hill, including a much later Bronze Age Bell Barrow.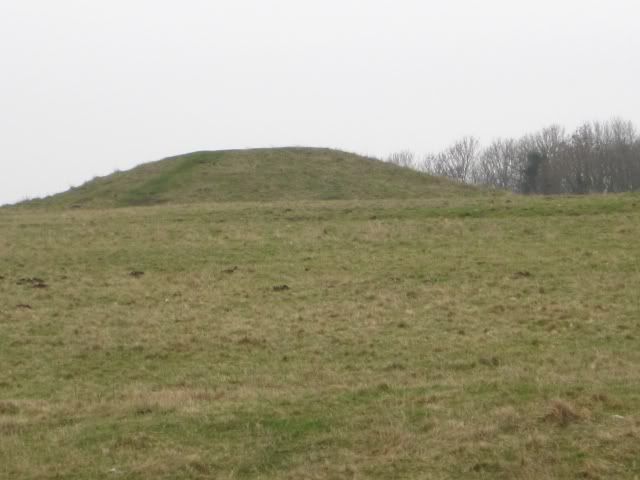 The western slopes of the hill are wooded, which makes a pleasant change from the very open and exposed landscape which is a feature of this part of the west country.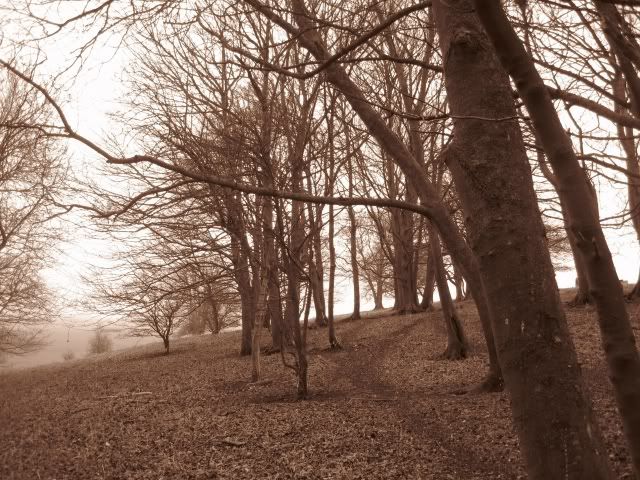 I walked on a mile or so to the west (away from Avebury) and this is a view looking back at the western slopes of Windmill Hill. You can just make out the dimple-like shapes of two barrows on the right of the picture. Unfortunately last Thursday was a very gloomy day here, which doesn't do the site justice at all, but I nevertheless wanted a record of everything of relevance.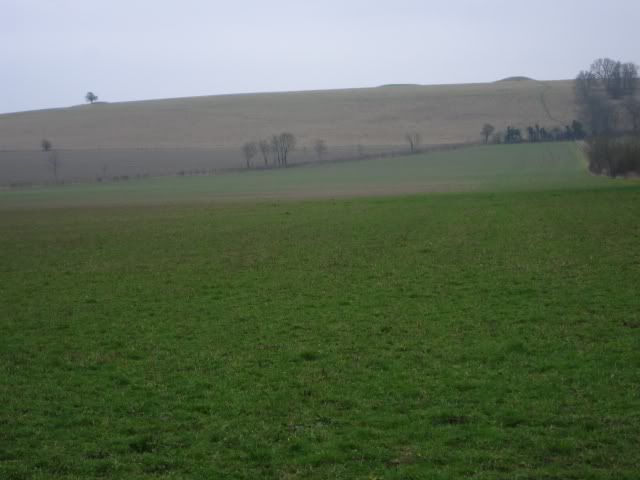 Here are a couple more links to the site. From the Avebury website .....
http://www.avebury-web.co.uk/windmill_hill.html
..... and most rewardingly, from Julian Cope's Modern Antiquarian website. The Field Notes on this page are well worth reading, particularly if one were thinking of going there, with good descriptions of how to walk there from Avebury village, and of the general ambience of the place.
http://www.themodernantiquarian.com/sit ... _hill.html
Although one of Avebury's "lesser" attractions, I would very much recommend visiting Windmill Hill should one have the opportunity. It's a beautiful spot, with a particularly good view of Silbury Hill in the near distance, and it's also a very peaceful and tranquil place. It would be a good place for a picnic. I didn't see another human soul the whole time I was up there, and I understand from what I've read that this is quite a common experience. People just don't seem to go up there very much. It was just me and lots of sheep, who seemed a little curious about the lone figure among them, sheltering from the Arctic-like winds in the lee of a round barrow, hurriedly eating a sandwich. I look forward to going back on a warmer day, and sitting there for a long time, contemplating the landscape once inhabited by our ancient ancestors.