Le tour de Sorciere is not yet built when Poussin travelled through there on the way to Rome.
Quote:
The Four Seasons is the last set of four oil canvases painted by Poussin between the years of 1660 and 1664, for the son of the Cardinal Richelieu, Duc de Richelieu. They were created during Poussin's last years of life, during which he suffered hand tremors, which made the execution of the paintings slow and painful, turning Poussin into a virtual recluse. The images in the paintings reflect a philosophical interpretation of the outside world, depicting the power and might of nature. As well as the four seasons, they also revolve through the four times of day: early morning, midday, evening, and moonlight. All four paintings (Spring, Summer, Autumn, Winter) currently reside in the Louvre Museum in Paris, where they enjoy their own room.
Teniers got his image from the collection of Archduke Leopold Wilhelm of Austria. Teniers was in charge of it.
Teniers was a member of the
Guild of St Luke.
It was Archduke Leopold Wilhelm of Austria who found the 300 gold bees (Tears of Ra) in the grave of the Merovingian King Childeric II.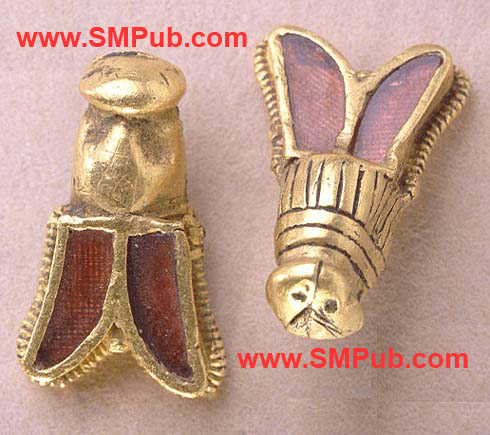 Napoleon (Bonaparte) had them sown to his coronation robe when he was crowned Emperor.
Interesting staff angles n'est-ce pas? ------ 36° Now what has angles of 36°?
Ouroborus throne too. Well it was he who stole the Templar documents from the Vatican.
Just think if it wasn't for
The Thief of Europe
we wouldn't know what the Pope's Seneschals did to the Templars.
I like this comment
Quote:
The ceremony lasted for more than three hours ending by three o'clock. Ceremonies from previous Bourbon coronations were adapted to the occasion and mixed with those of Charlemagne's coronation. Napoleon adopted his own version of Charlemagne's bee as a symbol for his reign. In order to copy the ceremony of the coronation of Charlemagne, 12 virgin maids with candles were needed. And after 15 years of social revolution in France it was hard finding any virgins in Paris. Napoleon made a joke about trying around St. Germain.
PS
Whilst we are speaking about Bees, two French towns have bees in their crests : La Meilleraye de Bretagne, (a place heavily associated with King Arthur, the Holy Grail and Merlin). La Meilleraye de Bretagne is 20km south of
Chateaubriand
. The other Bee village is Mazamet, next to the village of Hautpoul.