I still haven't got round to reporting the Huish Hill circle to the Crop Circle Connector Website, but I did go there again today, not specifically because of this, but to walk the Giants Grave - Martinsell Hill escarpment to the east, but my route on the way back took me to within a field's width of the circle I saw on Saturday, so I decided to go in and take a closer look.
The nearer you get to one of these, the less you see - until you're actually in it, that is - but walking downhill towards it, it starts to tilt out of view and merge with the rest of the corn, and by the time I was level with it, I could barely make it out at all. This is approaching it from the foot of Huish Hill to the north.
I'd never been inside one of these before, and I had it to myself. Following the tramlines in, it feels a bit like going into a maze, and once inside, it's somewhat disorientating, because you can't get a sense of the overall design, and feel like you're passing through a series of random shapes on your way to the centre. It's at this stage that you start to appreciate the scale of the formation, with some swathes of flattened corn as wide as roads, cutting their way through the field.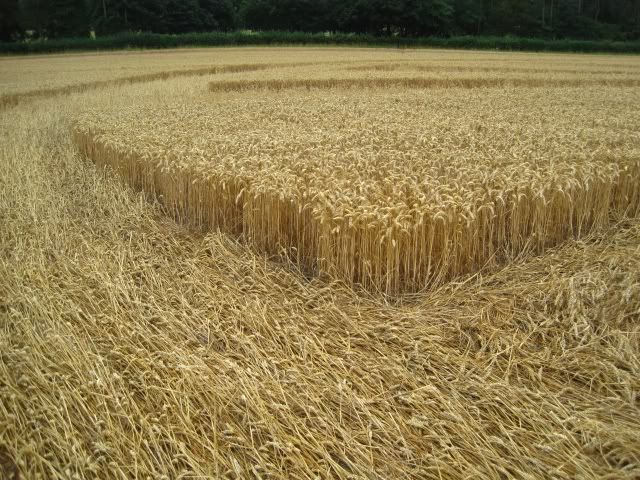 And the lines appear straight and neatly laid out, although the ground there was quite uneven underfoot. It looked difficult to do, with such precision, I have to say.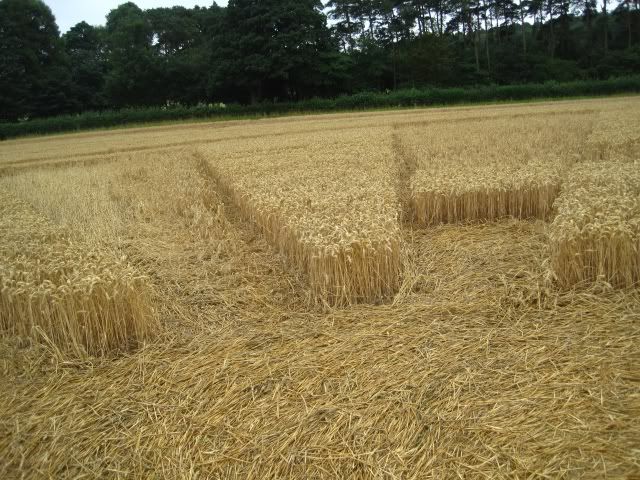 For a bit of orientation and context, this is looking west from inside the circle. Running right to left along that escarpment are Gopher Wood, Tan Hill, Milk Hill and the Adams Grave Long Barrow, and beneath that high ridge are the other three crop formations that have appeared in recent days, and are referred to further up the thread.
And this is looking north, to Huish Hill.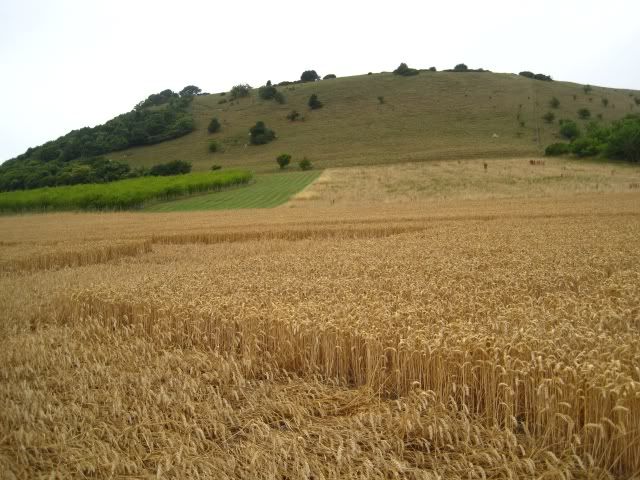 This is the middle of the circle, from where the spokes of the wheel-like design radiate outwards.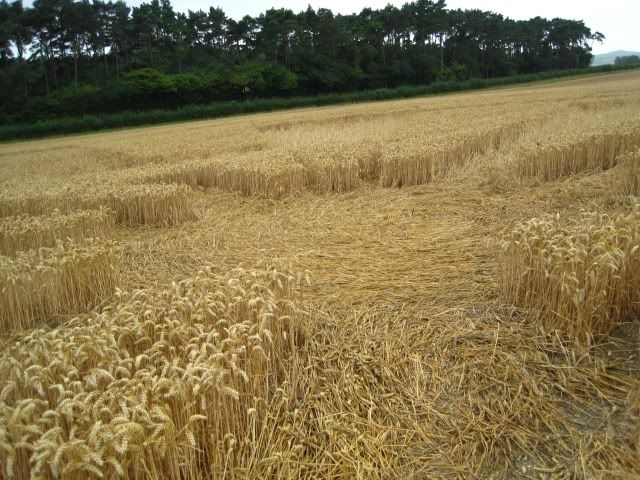 And this tribute of two feathers had been left in the middle. For some reason.