I was at Alton Barnes earlier today, and there are now two new formations underneath Tan Hill there, in addition to the one beneath Milk Hill from a few days ago. They're now on the Crop Circle Connector website (see below), along with some others that have appeared in the past few days, in what seems to be a determined effort to beat the combines - they were harvesting all over the place today, and even burning stubble in the next valley over.
http://www.cropcircleconnector.com/2010 ... y2010.html
From what I've read since I got back, there seems to be quite a lot of scepticism about the third one in particular (East Field 1), and there are accounts of people falsely charging for access into the fields, cars getting broken into, and so on, and it did look like a bit of a bun fight when I went past, with lots of people spread across the landscape, traversing tramlines into the different formations, and several pissed off looking combine, tractor and grain lorry drivers negotiating their way round all the cars and camper vans parked along the road. Not a great scene, to be honest, and I didn't enter any of the circles myself, didn't want to be part of it all.
I didn't even know about the other two formations when I drove over there this morning. I could vaguely see what I now realise was one end of one of them, but they're very hard to pick out when you're level with them, and I just thought it was a bit of broken down corn, and didn't give it a second look; it was only coming down later in the afternoon after all the croppies had turned up that I realised something was there.
I was walking to the other side of the Milk Hill escarpment (hence I was oblivious to the croppie hordes descending on the place till I got back), but knew I'd be passing by the one from earlier in the week, which is more or less in line with the White Horse hill figure, and had hoped to get some good pictures, but sadly not - you really do need to be directly above to see them properly, and even from the top of that hill, the angle was just wrong. This is good as I could manage, on a digital zoom, so it's a bit blurry.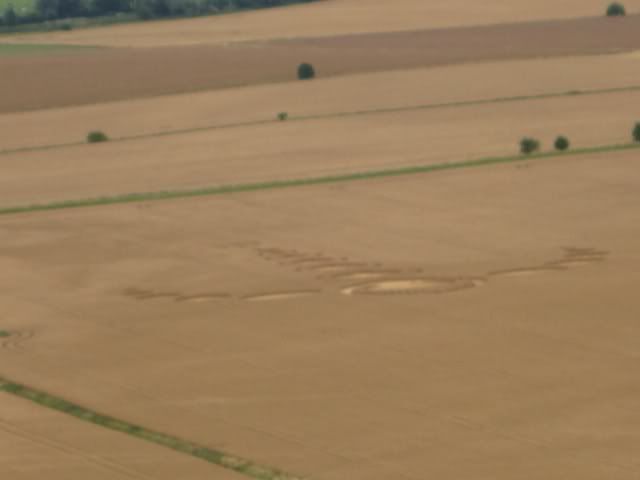 Shortly after this, as I continued along the escarpment, I saw a load of people, about eighteen of them, walk into the field from the far end, off the road, and I sat down by the white horse and watched them through binoculars, and that was quite an arresting sight, seeing these little ant-like figures make their way into the centre of the circle, and then fan out.
And then it was only several hours later when I was driving back down into the village of Alton Barnes, that I saw all this other activity going on. The village, btw, is only a few miles away from the Barge Inn, which is a big croppie gathering place and watering hole. Factor that in with everything else, and I really would have my suspicions about the origins of these particular formations.
Here you can just make out some people in one of the newer formations, sorry it's so blurry again.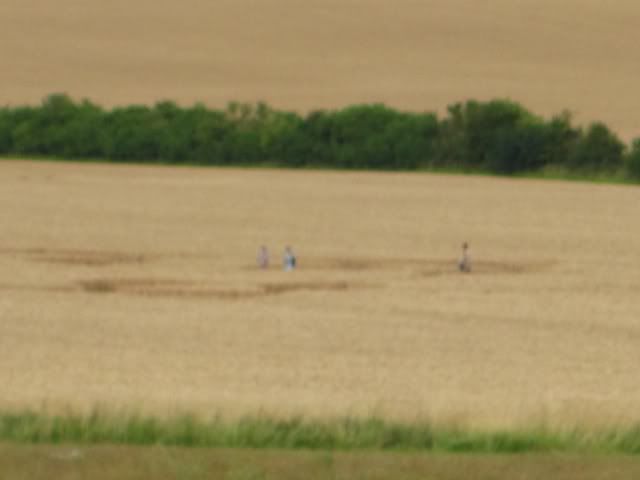 Here's another odd thing. There was another group of people in a different field, that didn't have anything in it, but they were walking up and down the tramlines, staring intently at the corn. It was really quite a weird scene, the whole thing.
The White Horse that stands above one of the fields containing a formation, as seen from beside St Mary's church in Alton Barnes. If only he could talk .......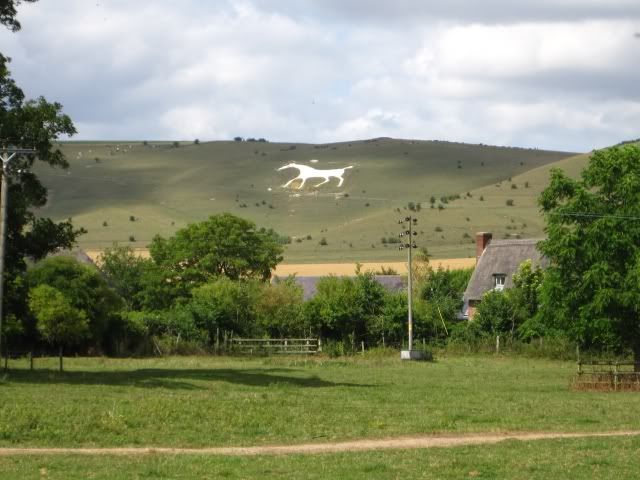 Anyway, not much of a field report, I'm afraid, but I may be going back at the weekend to walk the other escarpment, so if I do, I might be able to get some better overhead-ish shots, as the newer ones were closer to the foot of the hill. But that said, the rate they were combining today, and with rain forecast here for tomorrow, they may well be cutting those fields under lights as we speak.