Crow wrote:
We've known each other since we were girls, and i wonder if this was just a case of a bit of telepathy, if such a thing exists. It's also interesting to note that when we were together, we used to be able to turn street lights off as we passed underneath, but this only ever happened after visiting a mutual friend who was dying at the time. We both used to feel extremely drained of energy afterwards, and maybe this was our way of replenishing the stocks as it where.
I think the telepathy angle is interesting. I mean, it's a whole subject on its own, but in the sense that it shows how little we really understand about the human mind, compared to other bits of us, and also because it possibly underlines that some people perhaps have more of an affinity for picking up on this sort of thing than others, are more attuned to it, if you will, more receptive, have brains that operate at slightly different frequencies to the norm.
But the part about the street lights was what really struck me. Because something like this happened to me, late last year, and oddly enough, my intention on logging on had been to write about it, but to use it as a counter-balancing argument to the various ones above, as a way of demonstrating how things that might at the time seem bizarre and extraordinary, can prove to have mundane and rational explanations. Because I wasn't aware of this as a phenomenon. And then I saw that and it made me think about it in a different way, but I feel my experience is going to seem rather trivial compared to something with such a sad and serious story behind it. And that happened more than once.
Anyway, it did strike me as bizarre at the time, and then I sort of rationalised it away, but I did take a picture of the street lamp in question, back in the spring when this topic was created on the Forum, and was going to write about it then, but didn't.
This is a path leading onto College Street in Winchester, where I live. The buildings in the middle distance are part of Winchester College Boys School; on the right, out of sight, are the grounds of the ruined Wolvsey Castle, which are encircled by a magnificent high wall, which forms the other border to this wide walkway. I walk along this street every day to and from work, so it's a very familiar place to me.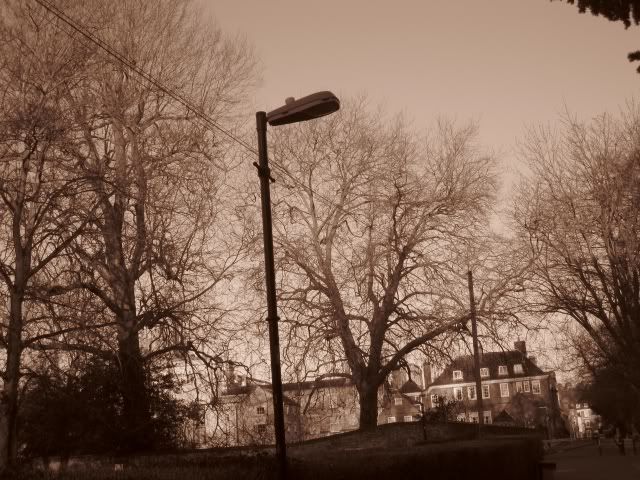 One evening in late December last year, I'm walking home (towards the camera), about six o'clock, and it's obviously dark, and the street lights are on, and just as I pass under the street lamp, it goes out. Seems like nothing more than an odd little coincidence, and I promptly put it out of my mind.
The very next morning, I'm walking along there in the other direction, about six-thirty am, and it's still pitch dark, and all the other lamps along the route are still on, apart from the one that had failed as I passed beneath it the night before, which was still off, as one would expect, since the bulb had only failed the previous evening. But as I walk back underneath it, and I mean right that instant, it comes back on. And stays on. Which did seem rather unusual, to say the least. And I did try going back in the other direction, to see if I could make it go off again, but to no avail. But I was still very intrigued by it.
But then, as I said above, I sort of rationalised it away. The lights on that path, and the streets around it, are controlled by a timer that gets adjusted during the year according to the hours of daylight. Often when I walk along there in the early spring, when it's getting lighter, the lights all go out together. So I explained it away by assuming that due to some faulty wiring or switch in the lamp, it's timer had malfunctioned, causing it to go on and off intermittently, but at long enough intervals for this not to happen more than once in the time it takes to walk along there, and by sheer chance it happened twice in succession as I passed beneath it. The odds of that happening are probably fairly long, but the odds of that being the explanation behind it, I feel, are probably extremely short.
So I very much doubt there was anything to it, but now I'm wondering about it a tiny bit more. But your experience sounds vastly more plausible as a genuine psychic occurence. And during difficult times, perhaps, when the mind is experiencing strong emotions such as sadness, such effects might be accentuated.
But I think it does maybe come back to this notion of some people simply being better attuned to pick up on this sort of thing than others, either by training their brain, or just being internally wired that way. And how little we really understand about the mind, and the energy it possibly transmits, without us necessarily realising it.