The White Horse at Westbury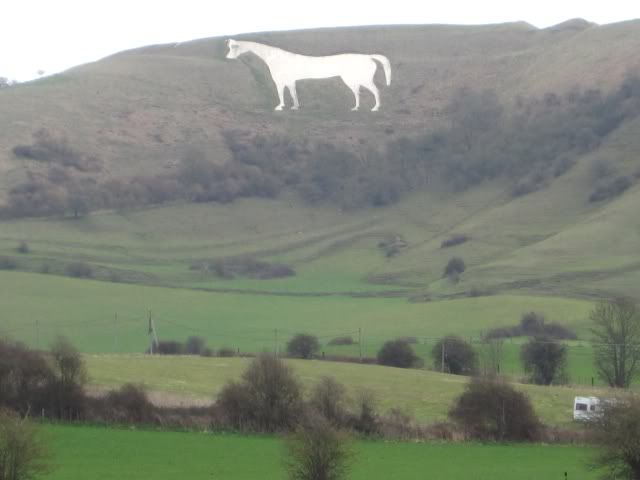 I'm very interested in hill figures at the moment, particularly white horses, and specifically the eight surviving horses in Wiltshire and the one in Oxfordshire, all of which I've visited recently. These figures are first and foremost enjoyable landscape follies, but they also relate to a thread on Paganism, in as much as the oldest of the horses, at Uffington, is one of Britain's most important pagan artefacts, and also because the enthusiasm for cutting these figures into hillsides - a practice known as Leucipottomy - that was at its peak in the late 18th and early 19th centuries, was in part inspired by a misunderstanding about the pagan origins of the horse at Uffington.
There are a number of hill figures in southern England - the chalk downland that covers many areas makes for an ideal medium into which to form these shapes - ranging from little understood figures of unknown origin, such as the Cerne Abbas Giant and the Long Man of Wilmington, to 19th century creations like King George III atop a horse at Weymouth, and the 20th century regimental cap badges cut into the hillsides around Fovant in south-west Wiltshire, along with a giant kiwi cut by New Zealand soldiers in the First World War.
But is is the horses that most interest me at the moment - the eight in Wiltshire and the one at Uffington. This one dates from the late Bronze Age, and was cut about three thousand years ago. The eight in Wiltshire are, in relative terms, much more recent, as the dates below show, although some are thought to be sited upon older figures. After Uffington, the other eight horses are Westbury (cut in 1778), Cherhill (1780), Marlborough (1804), Alton Barnes (1812), Hackpen (1838), Broad Town (1864), Pewsey (1937) and Devizies (2000).
I want to say a little bit about all of these, but I wish to concentrate first on the horses at Uffington and Westbury, since these are the oldest, and one was inspired by the other, albeit as a result of a misconception.
Let's firstly return to Westbury. This is the horse as it appears today. In order to save on regular restoration costs it was filled with concrete and painted in the 1950s, and re-concreted in the 1990s, so this is no longer a chalk figure as such. However, the shape you see was cut in 1778 by George Gee, steward to Lord Abingdon. It was a replacement for an older horse, thought to date from the 1600s, and referred to by a Reverend Wise in a 1742 publication. The present horse, however, looks like this.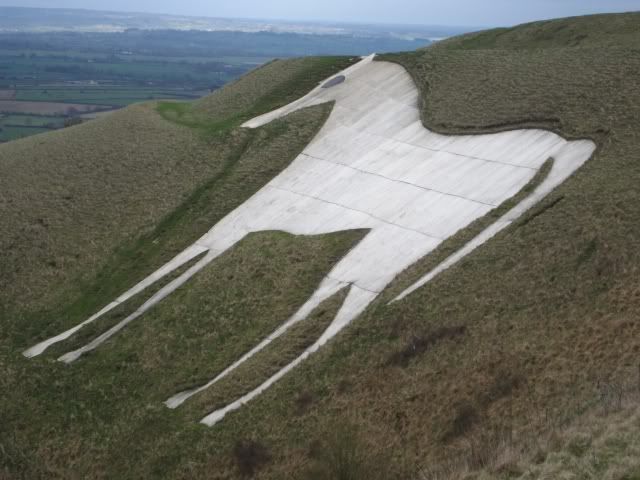 I've seen an artist's impression of the horse believed to date from the 1600s, and it looks very different to the one here today.
From Rupert Matthews
Haunted Places of Wiltshire
:
Quote:
The old horse was a very different creature. It had a long neck and perky, upright ears. The body was long and low-slung, rather like that of a dachshund, and carried unmistakeable signs that this was a male horse. The tail was lifted in an arch as if swishing flies aside and ended in a crescent, not unlike a moon.(p.15)
As we shall see in a later thread, this horse is sometimes known as the Moon Stallion, which is perhaps a reference to its earlier incarnation.
When George Gee cut his horse, therefore, he changed it considerably - it's even thought he changed the direction it was facing - and this is a shame in itself, but it's interesting to learn that one of his reasons for doing so was because he thought the original figure did not look horse-like enough.
Hold that thought, and travel north-east across the county, to the border with Oxfordshire, and the horse at Uffington.
This isn't particularly horse-like either; it's a very stylised representation of a horse, at the very least. It's also, as you can tell, difficult to photograph. This artist's impression from Wikipedia gives a better view of something that was, surely, designed to be seen from the air, and was constructed in tribute to the gods above.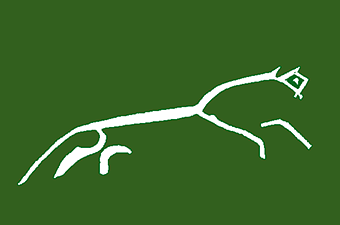 But however stylised and unusual the horse may appear, there can be little doubt that this giant hill figure - known at the time as the second wonder of Britain (after Stonehenge) - was the inspiration for the Westbury horse.
And herein lies the confusion that underpinned the construction of this later horse, and doubtless many of those that followed it. Thanks to the work of the Oxford Archaelogical Unit in the 1990s, who used a technique known as OSL (Optical Stimulated Luminescence) which calculates when buried soil was last exposed to the sunlight, we now know that the Uffington White Horse is almost three thousand years old, and dates from the late Bronze Age. It is therefore a pagan symbol.
But the horse cutters of the late 18th and early 19th centuries didn't know this. They believed it was much younger in origin, and a Christian symbol, probably cut as late as AD871, to celebrate King Alfred's victory over the Danes at Ashdown. In other words, it was seen as symbolising a victory by Christian Anglo-Saxons over pagan Danes. In fact, the later horse cutters were unconsciously echoing an expression of paganism.
Returning to Westbury, and continuing on this theme, the following is from English Heritage, who are responsible for this particular site.
Quote:
This famous landmark ... has changed over time. Local records from 1742 suggest that the horse was originally cut in the late 1600s, probably to commemorate the supposed battle of Ethandun, thought to have taken place at Bratton Camp in AD878.
It should be noted at this point that both Westbury (aka Westbury / Bratton) and Uffington both occupy ancient Bronze or Iron Age hillforts, later utilised by the Anglo-Saxons. It is easy to see, perhaps, how the origin of the horses on these sites were a subject of confusion.
English Heritage continue:
Quote:
In the 17th century, it had become popular to commemorate these supposed Saxon battle victories over the pagan Danes with white horses, in celebration of the belief that the Saxons had brought Christianity to Britain. The tradition probably derived from the mistaken belief that the Uffington White Horse in Oxfordshire had been created in Saxon times to celebrate such a victory.
That said, even before the definitive survey of the 1990s, most people seem to have been quite open minded in their interpretation of when this oldest horse in England dated from, and what it symbolised. Perhaps the ambiguity was no bad thing. As Jane Cooper argues in her 2000 guide,
White Horse Hill and Waylands Smithy
:
Quote:
For the horse [at Uffington] to have survived all this time it must have been significant to a succession of cultures and to have been thought a "special" place. It would seem plausible that this significance is related to the many burials found in the area. Possibly the horse was a symbol acceptable to both pagan and Christian beliefs, including that of the Celtic goddess Epona, who represented the victory of life over death.(p.10)
Uffington is an amazing site. I don't know it that well yet, or this topic, really (others like Roscoe have written about Uffington in much more detail in the past), so this only scratches the surface, but just to add a little bit more about it.
The site is steeped in legend, as is the nearby long barrow at Waylands Smithy. The most famous legend of Uffington involves Dragon Hill, beneath the main slopes - one can't help but wonder, incidentally, if such a creature might have been some kind of inspiration for the figure above - seen here from the flank of the figure.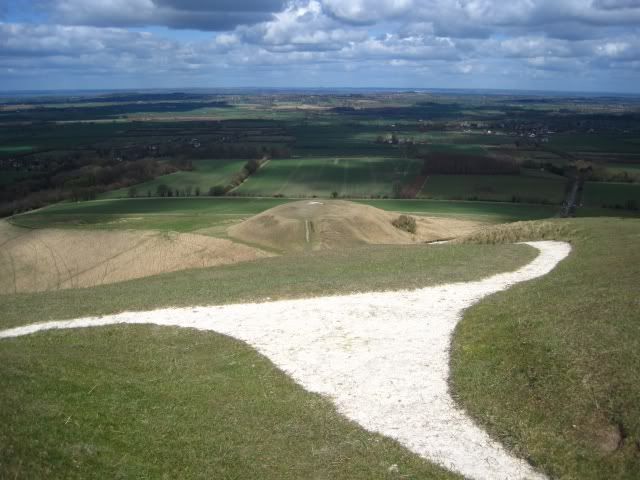 It is here, according to local folklore, that Saint George killed the dragon, so staining the earth with its blood that the grass never grew in this spot again, hence the slightly flattened out top of the mound remains bare.
In the 18th and 19th centuries fairs were held at Uffington, and the hill figure was routinely spruced up, or "scoured". It was a very popular place for the old sport of cheese rolling, where a giant cheese is rolled down a hill, and people chase after it.
The white horse was of great interest to Thomas Hughes (1822-1896) who wrote
Tom Brown's School Days
, and who also wrote a book called
The Scouring of the White Horse
.
As I said above, this is such a rich topic that I've hardly done it justice, but I hope it may have been of some interest, and may inspire those with the opportunity to visit these delightful follies in the landscape.
I'll add some more later, though much more briefly, on the other seven horses.