Although not specifically related to this case, some more information below on Abney Park Cemetery, for the benefit of those of us like me who have never visited. It's an interesting place when you start looking into it. The images shown below are all from Wiki, but the photo link at the end of this posting, from the Dark Destiny website, is well worth a look.
Here's some history about what's described as "the first wholly non-denominational garden cemetery in Europe".
Of particular interest is its Egyptian Revivalist entrance:
Quote:
One of the 'Magnificent Seven' parkland cemeteries created in the early Victorian period, albeit set out in an entirely different way to the others and with somewhat wider purposes, Abney Park features an entrance designed by William Hosking FSA in collaboration with Joseph Bonomi the Younger and the cemetery's founder George Collison II. This frontage was built by John Jay in the then increasingly popular 'Egyptian Revival' style, with hieroglyphics signifying the 'Abode of the Mortal Part of Man': a venture too far into the architecture of the African continent for Augustus Pugin who pilloried the idea, hoping no-one would repeat such a radical departure from 'good' Christian gothic design (see illustration for Grounds of a Quaker School). A similar criticism had previously been made when the first Egyptian-style entrance to a western cemetery had been constructed at Mount Auburn Cemetery in the 1830s, on which Abney Park Cemetery was partially modelled. By contrast, figures who appreciated the composition, complimented William Hosking and Joseph Bonomi on their scholarly frontage design; including an arbiter of design taste, John Loudon, who described it as a 'judicious combination of two lodges with gates between'.
Bracing the controversy, Abney Park could claim to be the earliest complete design for a permanent 'Egyptian Revival' entranceway at a cemetery anywhere in the world. The gateway at Mount Auburn Cemetery from which it took its inspiration, was at that time still a temporary structure, being made of dusted wood and sand; its permanent 'Egyptian Revival' design was not built until two years after Abney Park's design opened. In England there were already some examples of the use of 'Egyptian Revival' architecture on a small-scale, including one example of a small 'Egyptian Revival' gate installed at a cemetery for Nonconformists near Sheffield in 1836. However, Abney Park Cemetery became the first to employ the style for cemetery buildings, and also the first to introduce it for a complete entrance design.
Here's the whole article:
http://en.wikipedia.org/wiki/Abney_Park_Cemetery
Here's the entrance today: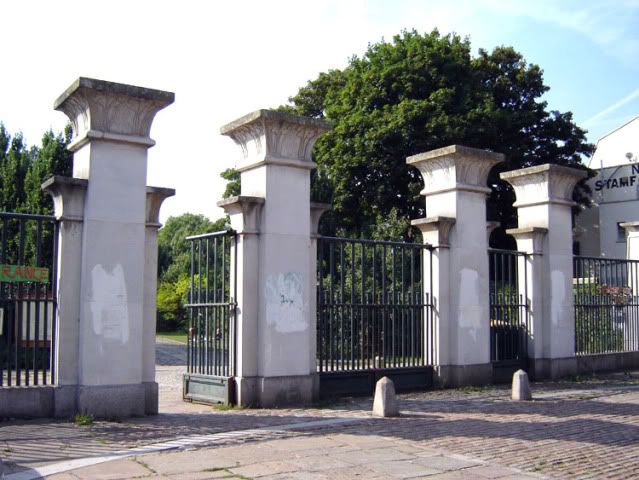 And a detail of same: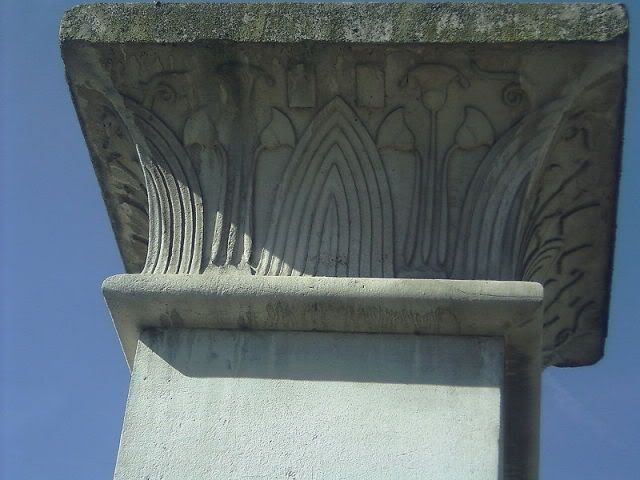 And the caricature by Pugin, who took such exception to the design: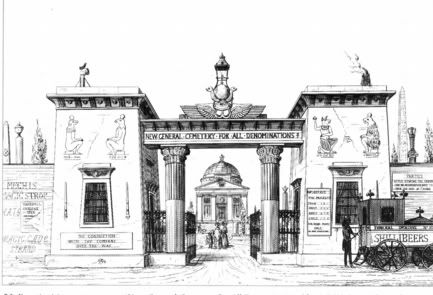 Some information on Isaac Watts:
http://en.wikipedia.org/wiki/Isaac_Watts
This is the statue of Watts, which is situated in Abney Park Cemetery: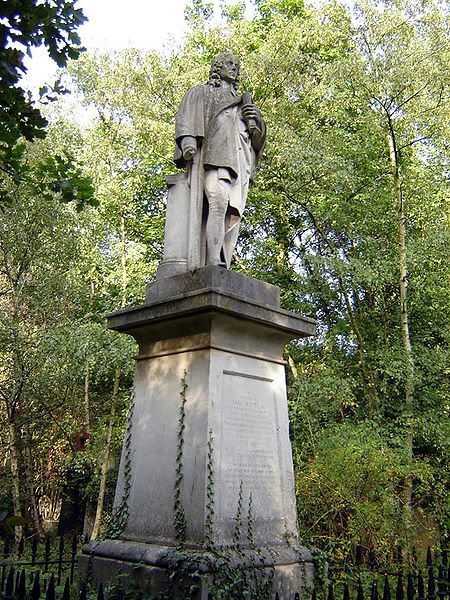 The Dark Destiny website page below has some excellent photos, and there are pages on other London cemeteries, including Highgate.
http://www.abney-park.gothiclondon.co.uk/