Wombat wrote:
However, I do dispute your view that there is a consensus that anthropogenic CO2-e is partly the cause. The statement is a very bald assertion. This is where the science appears to be fundamentally flawed.

I accept other models. I just question their validity.
It's solar variation? Doesn't seem supported by solar monitoring, or the temperatures of the rest of the solar system.
It's Milankovich cycles, eccentricity of Earth's orbit? Maybe, but those seem to cause slower periods of change.
Cosmic rays? Fine, but what I do not understand from your theory is why the level of cosmic ray bombardment of the Earth has increased over the last 60 years, and appears to continue to be increasing.
It seems logical to me it's anthropogenic.
a) the natural greenhouse effect of Venus causes it to have an artificially higher temperature.
b) the natural greenhouse effect of Earth causes its global temperature to be higher than it should be (this was demonstrated by Arrhenius and Fourier in the 19th century)
c) adding manmade greenhouse gasses to natural greenhouse gasses should therefore add to an existing natural effect
No one can dispute CO2 levels in the atmosphere are steadily increasing, and you said you don't dispute we're warming. I understand correlation is not causation.
But the above scientific model suggests exactly
why
one should correlate with the other, and may in fact be causing the other.
I've never seen a skeptic show why the greenhouse model
shouldn't
work - to question a model, you have to suggest what about it is wrong - I haven't seen that yet.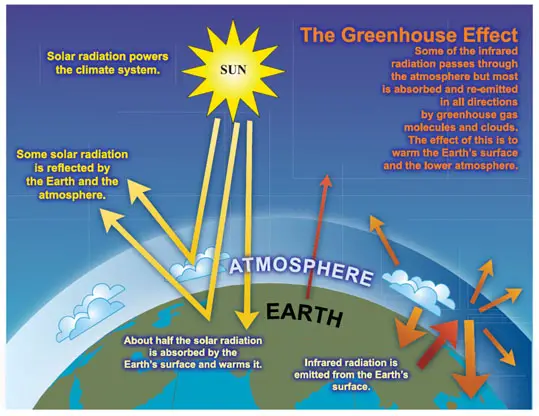 Model appears to be valid. Model explains the variation we've seen. Where's the problem? I'll ask you again.
If it works on Venus, why doesn't it work here
?
Quote:
Alternative (green) technologies at the current time do not provide the same leap in productive capacity and efficiency. Until they do, there will be a net cost to the societies that are forced into them. Subsidies and taxes don't drive economic competitiveness.

Mostly because
a) there hasn't been a century of R & D into improving their efficiency as there has been with fossil fuels
b) the real COSTS (externalities - pollution) of fossil fuels are usually dumped as "externalities" that don't show up at the pump/meter - society just pays them in health bills and other ways
Finally, there's one other problem. We haven't even talked about the issue of whether we're running out or not. I don't know if the Peak Oil scenario is true, but it seems likely we're going to confront Hubbert's Peak eventually, even if we haven't passed it already.
At that point, cheap oil itself will rapidly start becoming a thing of the past. And although I don't like conspiracy theories, as you know, there is quite a bit of reason to suspect increased interest in geopolitical control over Central Asia and the Middle East may have to do with some possible hinting that control over the remaining, dwindling resources may be critical for those with power & money at stake.
BTW, I'm not against nuclear power, although I'd prefer to see more R & D going into nuclear fusion, which I believe is less dangerous for the environment than fission.