Mysteries
Vol 5 #, Issue #17
Magazine Summer 2007
$5.95 US/$7.95 CAN
Oak Island's
MONEY PIT
Page 49 outlined paragraphs
A strange, engraved slab found in the money pit in 1803 at the depth of 38 meters had a coded message that was believed to have read, "Forty feet below two million pounds are buried," yet the original stone went missing and
(only)
some suspect that the inscriptions were added later by some seeking to raise funds for a new expedition.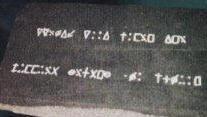 But recently, Keith Ranville has suggested that the first triangle in the inscriptions point to Birch Island and the rest refer to engineering patterns. He believes that another tunnel possibly branches off from the money pit toward Birch Island.
His Translation Read:
Triangles, two angles,divides, south/north,at triangles right angles,two doors left of triangle,two doors right of triangle,upper,two,tunnels,divides,doors,triangles,doors,divides,upper/lower,three,tunnels.
Tunnel,three,divides,into,half&half,divides,to,into,shafts,in,one,south/north,two,upper,to,south/north,third,second,shafts.
I ordered Mystery Magazine and copied this part of the magazine the magazine goes from page 44 to 51 with diagams, photos, and theories. mentioning Fred Nolan,Daniel McGinnis Keith Ranville ect...A large article for a Magazine you sure get your monies worth, you see you dont need to pay or join a group or private societies to be a treaure hunter you just have to get out there and do things for yourself and stop trying to be apart of the crowd, thats how you get recognition of being a famous treasure hunter.
Truly
Crusader
http://sinclair-clan.blogspot.com/