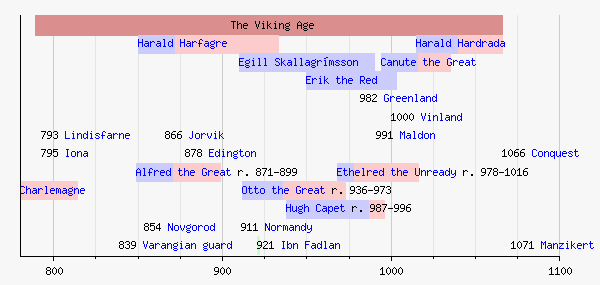 In 911, the French king, Charles the Simple, was able to make an agreement with the Viking warleader Hrolf Ganger, later called Rollo. Charles gave Hrolf the title of duke, and granted him and his followers possession of Normandy. In return, Hrolf swore fealty to Charles, converted to Christianity, and undertook to defend the northern region of France against the incursions of other Viking groups.
The results were, in a historical sense, rather ironic: several generations later, the Norman descendants of these Viking settlers not only thereafter identified themselves as French, but carried the French language, and their variant of the French culture into England in 1066, after the Norman Conquest, and became the ruling aristocracy of Anglo-Saxon England. These Norman Viking descendants, although converting to Christianity, maintained their warlike nature, and eventually adopted chivalry, which joined learning to fight on horseback (like their Moorish enemies in Spain) with becoming knights or "holy warriors" of the Cross. One of their pass-times was jousting, or tournaments of armored knights fighting with lances (the Celtic "lancia") on horse-back.
http://www.crystalinks.com/vikings.html
Ragnarok is the final battle, equivalent to Judgment day in the battle of good and evil, when balance is restored and a new creation begins.
Thor
His greatest enemy is Jormungand, the Midgard Serpent.
At the day of Ragnarok, Thor will kill this serpent but will die from its poison. His sons will inherit his hammer after his death.
Donar is his Teutonic equivalent, while the Romans see in him their god Jupiter.
Thursday is named after him.
and one more
Early Sumerian and Akkadian artifacts show pictures of a tree or pole which is called the "axis mundi ", or the world axis. It is intended to be the center and support of the world. Guarding this tree or pole is a snake or pair of intertwined snakes. We can see here the beginnings of the association between the snake and the rod which we will see later in the Bible and the caduceus. Also, in Sumer, we have a cylindrical seal which has on it the mythical date palm with its two fruits, life and enlightenment. This tree is copied again in the book Genesis in the Jewish scripture. This tree is guarded by a serpent. Again, this is duplicated in the Bible.
In these early Sumerian/Akkadian myths we meet Etana, the chosen king, later a demi-god, who must find the tree which stands at the center of the earth. This tree is the home of an eagle, who has devoured the young of the serpent who guards the tree. The serpent appeals to the Father god, Shamash, for justice, and Shamash shows the tree how to help the serpent capture the eagle. There exists an early Akkadian seal [ca. 2350BCE] showing the serpent in human form enthroned with the caduceus emblem behind him and guarding him.
http://www.blackherbals.com/divine_serpent_in_myth_and_legen.htm