Just for a bit of light relief, in case anyone should need it at the moment, I recently acquired this unusual rendition of Leonardo's "Last Supper". It was given to me at the weekend by some dear friends I was staying with, who found it in a junk shop, somewhere in north-west Wales.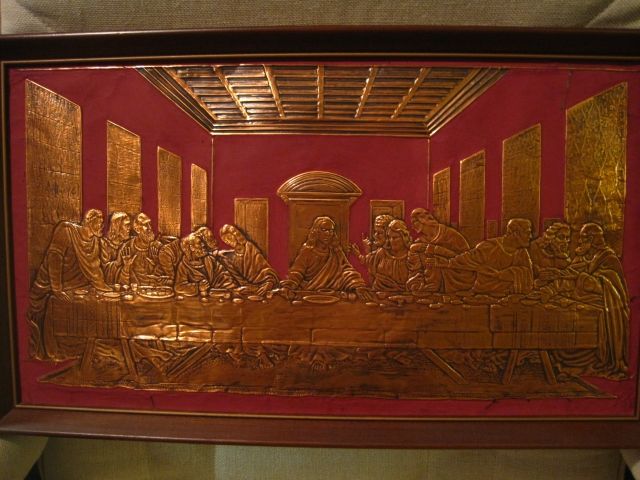 It's made from metal foil stuck onto a card background. The depiction of the people round the table seems fairly standard, although the figure on the right side of Christ appears even more feminine than normal, so one can read into that what one will, I guess.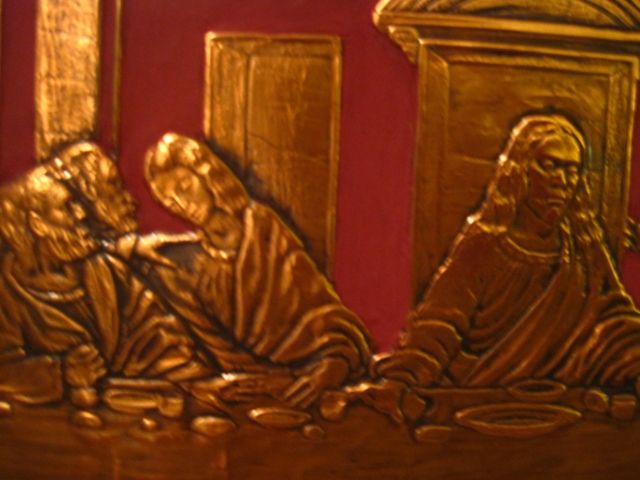 I was a little unsure about it at first, but I do like it now, as a nice, fun piece of kitschy art. I like that it's just two colours, and the symmetry of it, which is very balanced, and the sense of perspective. The raised pieces of tin also make it feel quite tactile. I'm going to put it on the landing, where I have a slate green wall, that I think will set off quite well the burgundy and gold in the painting.
Anyway, if someone thinks I've stumbled upon a rare and collectable piece of pop art, let me know.