PHOENICIA, Sidon. Baalshillem (Sakton) II. Circa 401-365 BC. Silver Double Shekel. (28mm, 27.64 g). Phoenician pentekonter left on waves; figure at prow, standard at stern; Phoenician bet between legs / Persian king and driver in chariot left; behind, king of Sidon, in Egyptian style garments, holding cultic scepter and votive vase, walking left. E&E-S 560 (D20/R33); Betlyon 16; HGC 10, 236. Good Fine, some porosity, very scarce.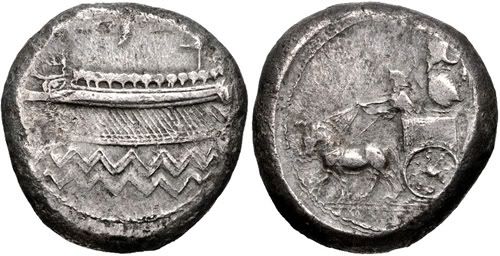 Egyptian gold ring - money. The ancient Egyptians did not use coins.
Pharaoh Necho`s Battle near the Euphrates
Necho II (sometimes Nekau) was a king of the Twenty-sixth dynasty of Egypt (610 BC – 595 BC).
Necho II is most likely the pharaoh mentioned in several books of the Bible (see Hebrew Bible / Old Testament). The Book of Kings states that Necho met King Josiah of the Kingdom of Judah at Megiddo and killed him (2 Kings 23:29) (see Battle of Megiddo (609 BC)). The Book of Chronicles 2 Chronicles 35:20-27 gives a lengthier account and 2 Chronicles 35:20 states that when Josiah had prepared the temple, Necho king of Egypt came up to fight against the Babylonians at Carchemish on the Euphrates River and that King Josiah was fatally wounded by an Egyptian archer. He was then brought back to Jerusalem to die. Necho is quoted as saying:
"What quarrel is there between you and me, O king of Judah? It is not you I am attacking at this time, but the house with which I am at war. God has told me to hurry; so stop opposing God, who is with me, or he will destroy you." (NIV)
According to the Book of Jeremiah in the summer of 605 BC Carchemish was the site of an important battle was fought by the Babylonian army of Nebuchadrezzar II and that of Pharaoh Necho II of Egypt.[1] The aim of Necho's campaign was to contain the Westward advance of the Babylonian Empire and cut off its trade route across the Euphrates. However, the Egyptians were defeated by the unexpected attack of the Babylonians and were eventually expelled from Syria.