Back to Helene de Beauvoir and Lionel de Roulet.
Excuse the Babelfish from German.
http://www.helenedebeauvoir.com/pageID_1885931.html
1940 Hélène runs for a month to Portugal, where she has because of the war, however, remain until 1945. Simone paid Hélène travel to Portugal. She is fascinated and inspired by the new light on the west coast of Portugal. The crystals and reflections of the salt and water are decreasing in their work, then an ever larger space book. Lionel de Roulet, ill with tuberculosis, healed them in Portugal in his mother's house (with the Portuguese artist Carlos Porfirio married off). On 10 May, the day of the invasion of Holland and Belgium by Germany in Lisbon and she comes to meet De Gaulle's personal assistant is Lionel. Lionel founded the Institute Francaise Algarve, with the assistance of Hélène and is secretary of the Chamber of Culture of Faro. Hélène paints a literary and a historical mural of France from Portugal.
1987 exhibitions in Madrid and the Palacio de Fefinanes, Cambados, Spain. In Rome, Hélène participated in the exhibition "Sartre and the arts." It seems the autobiography of Hélène de Beauvoir, "Souvenirs," in which they not only about her life as a painter, the clan of her sister and the many trips to her husband's side but also on their personal encounters with great artists such as Albert Camus, the her the book "Le mythe de Sisyphe dedicated" and Picasso, Dos Passos, Aragon, Elsa Triolet, Francis Poulenc, Darius Millaud, Leprince-Ringuet, Daniel Rops, Renauld, Merleau-Ponti, Giraudoux, René Maheu, Jean Luis Barrault, Dino Buzzati, Fernand Léger, Maria Callas, Jean Cocteau, etc. says.
[snip]
Oh yeah. That's a lot of
right wing
friends they had, let me tell you.
Rog, I think I may be beginning to understand a bit of what makes you tick.
http://www.publicartinla.com/womens_sal ... uvoir.html
New York Women's Literary Salon, 1975
The two people to the very left are Gloria Orenstein and Erika Duncan. The two people to the very right are
Helene de Beauvoir
and Jovette Marchessault (outer). Photograph by Freda Leinwand.
http://tetworld.tripod.com/gloriaorenstein.html
I am available to give slide lectures on topics ranging from The Women of Surrealism to Ecofeminism, Ecofeminist Art, Salons and Salon Women, The Re-Emergence of the Goddess in Women's Art and Lit. of the Seventies and Eighties, Shamanism and Bridget Tichenor.
[snip]
Leafing through her CV ... this chick (ok, that was deliberate) looks a bit left wing to me ...
Passionate Sisterhood: The Art of Helene de Beauvoir" in The Memorial Issue of THE PUBLICATION OF THE SIMONE DE BEAUVOIR SOCIETY, Vol. 3, 1985-86
Hermeticism and Surrealism in the Works of Leonora Carrington as a Model for Latin American Symbology" PROCEEDINGS OF THE 10th CONGRESS OF THE INTERNATIONAL COMPARATIVE LITERATURE ASSOCIATION Edited by Anna Balakian, New York University Vol. 3, Edited by M.J. Valdez, University of Toronto, 1985
EXHIBITION OF HELENE DE BEAUVOIR. Co-created with Yolanda Astarita Patterson, President of the Simone de Beauvoir Society. Exhibition held at Stanford University, April, 1986.
[snip]
The Chrysopeia of Mary the Jewess: Leonora Carrington's Surrealist Alchemical Tractate
http://tetworld.tripod.com/leonora.html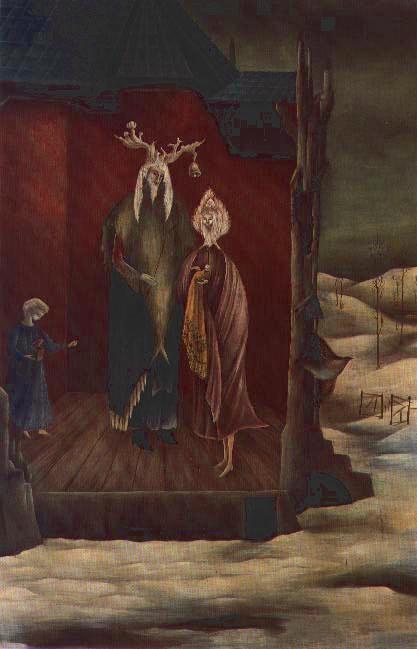 Le Bon Roi Dagobert
by Leonora Carrington, 1952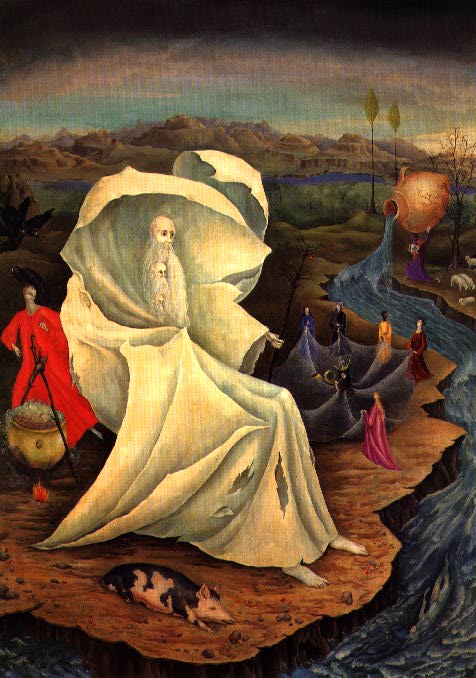 Temptation of St. Anthony
, Leonora Carrington, 1947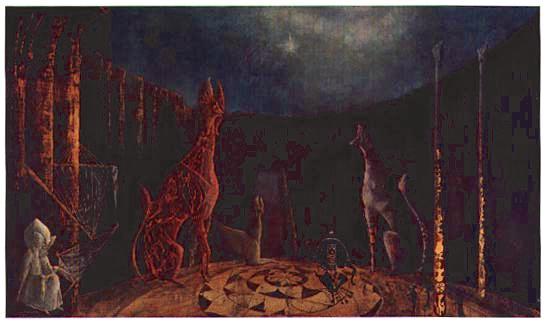 Are you Really Syrious
, Leonora Carrington, 1953