This really doesn't look like very much at all, and at first sight it isn't.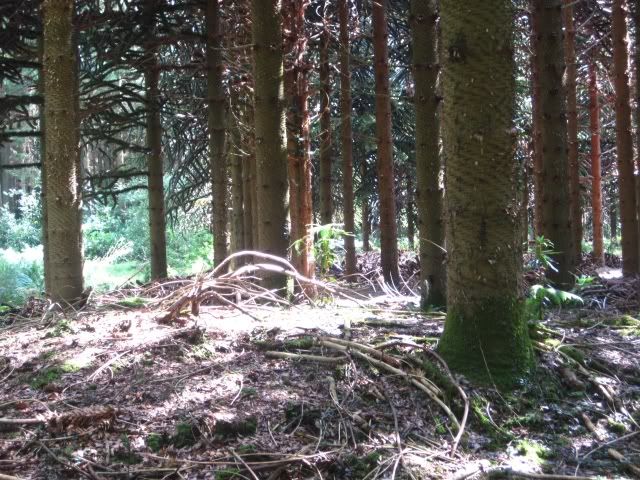 This is Robin Hood's Bower, in woods near the town of Warminster, in south-west Wiltshire, England. It's one of the west country's least known prehistoric monuments, but one which nevertheless has an interesting history, illustrating the way in which some ancient sites, however obscure, come to be appropriated, utilised and indeed venerated by succeeding generations.
There is very little information on the original earthwork, save for the fact of its existence, and it merits only a few lines on Julian Cope's
Modern Antiquarian
website, which describes it as:
Quote:
... a sub-rectangular prehistoric earthwork enclosure on low lying greensand south of Warminster. The monument comprises a sub-rectangular area of 200 square metres enclosed by a ditch up to 1m deep and 7.2m wide and a slight inner bank 3.3m wide and up to 0.2m high. The enclosure is crossed by a modern track.
And Hoare's
Ancient Wiltshire
, quoted on the same website, describes it thus:
Quote:
Southley-Wood [now called Southleigh Woods] so called from the circumstance of its lying to the south of Warminster, is distinguished by a small entrenchment, denominated Robin Hood's Bower, which is nearly of a square form, and comprises within its area about three-quarters of an acre of land.
Bower, incidentally, is a lovely old English word meaning a shady place framed by trees, sometimes known as an arbour.
And it is the trees which draw you to this place because if it wasn't for the fact of the unusual thicket that stands on the mound, like a wood within a wood, one could be forgiven for walking right past this earthwork, so eroded and overgrown has it become.
Although an ancient wood, that still has some older trees around its edge, Southleigh today is a conifer plantation, owned by the Marquess of Bath, about one square mile or so in size, criss-crossed with logging tracks and grass paths on a grid of parallel lines. It's the sort of wood I find a little bit boring, although there are some nice specimen firs in there, amidst the dense ranks of younger trees grown for their softwood.
But what makes Robin Hood's Bower stand out is the way in which it has been covered by araucaria araucana trees, sometimes known as Chilean Pines, sometimes known as Monkey Tails, but best known as Monkey Puzzles. These very striking evergreen trees, that come from South America (this is the national tree of Chile) were introduced to England during the early to middle part of the 19th century. They are now classified as an endangered species and have been protected since 1971. Here's a little more about them from Wiki.
Quote:
Araucaria araucana (popularly called the Monkey-puzzle Tree or Monkey Tail Tree) is an evergreen tree growing to 40 metres (130 ft) tall with a 2 metres (7 ft) trunk diameter. The tree is native to central and southern Chile, western Argentina and south Brazil. Araucaria araucana is the hardiest species in the conifer genus Araucaria. Because of the species's great age it is sometimes described as a living fossil.

The leaves are thick, tough and scale-like, triangular, 3–4 cm long, 1–3 cm broad at the base, and with sharp edges and tip. They persist for 10–15 years or more, so cover most of the tree except for the older branches.

It is usually dioecious, with the male and female cones on separate trees, though occasional individuals bear cones of both sexes. The male (pollen) cones are oblong and cucumber-shaped, 4 cm long at first, expanding to 8–12 cm long by 5–6 cm broad at pollen release. The tree is wind pollinated. The female (seed) cones, which mature in autumn about 18 months after pollination, are globose, large, 12–20 cm diameter, and hold about 200 seeds. The cones disintegrate at maturity to release the 3–4 cm long nut-like seeds, which are then dispersed by jays and squirrels.

Its native habitat is the lower slopes of the Chilean and Argentinian south-central Andes, typically above 1,000 metres (3,300 ft), in regions with heavy snowfall in winter but can also be found in the southern region of Brazil. Juvenile trees exhibit a broadly pyramidal or conical habit which naturally develops into the distinctive umbrella form of mature specimens as the tree ages.[1] It prefers well drained, slightly acidic, volcanic soil but will tolerate almost any soil type provided it drains well.
http://en.wikipedia.org/wiki/Araucaria_araucana
This is a clump of Monkey Puzzles in Argentina.
Photo courtesy Wikipedia
And this is a closer look at their distinctive foliage, from Robin Hood's Bower.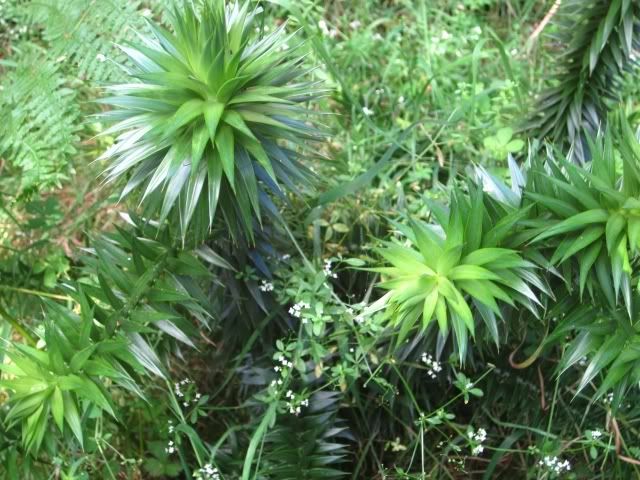 They tend to do well here in England - they like temperate climates with plenty of rain - but they're mostly planted as lone specimen trees in the gardens of grander houses, or sometimes in churchyards, and as such they are comparatively rare. What is still more rare, and something I've never personally seen before, is to have lots of them planted together in a dense group, because in Robin Hood's Bower there must be at least two hundred of them. Somebody clearly venerated this spot very much, to go to the lengths of planting so many of these trees on it. The question is - why?
The answer is this man, Alfred the Great:
Photo courtesy "Odejea", Wikipedia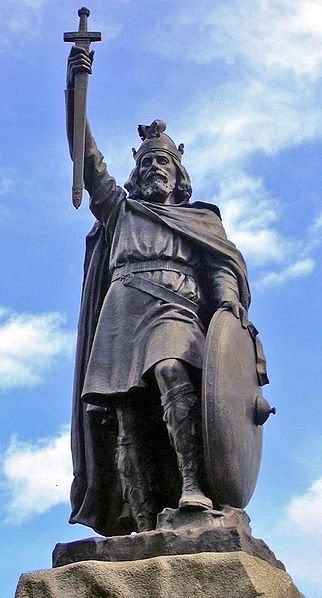 Alfred was the King of Wessex from 871 to 899 and is a true national hero of England, having been a great warrior and leader of his people. He was also a great scholar, and there was no better educated English monarch until Henry VIII ascended the throne in 1509, nearly 650 years later.
http://en.wikipedia.org/wiki/Alfred_the_Great
He was a man of many accomplishments, by far the greatest of which was defending the Anglo-Saxon kingdoms from the Vikings, and specifically his nation-shaping victories over the Danes at Ashdown in 871 and Edington in 878.
It is this latter, decisive military victory that leads us back to Robin Hood's Bower in Southleigh Woods, for it was upon this ancient earthwork that Alfred and his Anglo-Saxon army took their rest on the night before the battle.
This moss covered stump below is almost certainly all that remains of Iley Oak, a much venerated tree, which is where Alfred slept that night, some 1,133 years ago.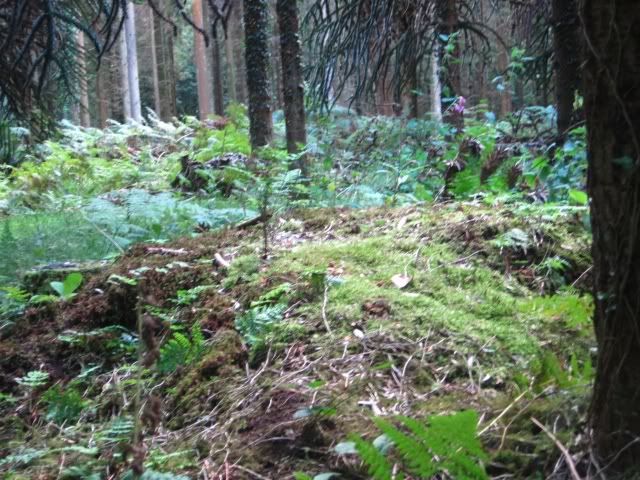 And because of this, the planting of the Monkey Puzzle trees to commemorate this spot begins to make sense.
As referred to above, these trees didn't make an appearance in England until the early to middle part of the 19th century, so the trees in Robin Hood's Bower can't pre-date this period. It's difficult to tell, because these are incredibly slow growing trees, and being put so close together will have stunted their growth, but I would hazard a guess that these trees date from this period, and not much later, and would have been planted in around 1850. This is because there was a great upsurge of interest in King Alfred exactly one thousand years after his birth in 849, and he was much admired by the Victorians. If this is the case, and it is purely supposition on my part, then the Monkey Puzzle plantation would have been commissioned by John Alexander Thynne, born in 1831, who was the 4th Marquess of Bath from 1837 to 1896. This is rather fun caricature of him, entitled "Ancient Lineage", painted by Carlo Pellegrini for an 1874 edition of
Vanity Fair
.
Photo courtesy Wikipedia
But if that probably answers the question about the planting of the trees, it's worth noting that interest in the site of the earthwork, and Iley Oak, considerably pre-dates the Victorian era. The hundreds of the nearby settlements of Warminster and Heytsbury used to meet at this spot until 1652 (a "hundred" is an old English term for an administrative area within a county). The site then went on to be used as a meeting place by the religious non-conformists of the village of Crockerton, which lies in the valley beneath these woods.
So from Anglo-Saxon times, to the Victorian era, this prehistoric mound has been considered an important site, and is part of Wessex tradition and folklore. Today it is a curious sort of place, and if one didn't know its history, it appears as a dark and incongruous thicket of non-native trees within a larger wood. In fact, it's so dark in there that it feels quite eerie, and one can't help but think of the Anglo-Saxon soldiers camped there, over a millenium ago, preparing to go and do battle with the marauding Viking invaders, and this one connection more than anything else, makes this tree covered mound, and the ancient oak stump where Alfred rested, a small but significant part of our history. It also demonstrates how some prehistoric sites have an enduring significance to the generations that follow.
Finally, as to why it's called Robin Hood's Bower, nobody seems to know. There are dozens upon dozens of places in England named after this legendary and quite possibly ficticious figure, although few of them are this far south. It must pre-date the planting of the Monkey Puzzles, otherwise the 4th Marquess would surely have named it King Alfred's Bower. The only explanation one finds offered is that Robin Hood is associated with Sherwood Forest, and Robin Hood's Bower is ... in a forest. So that part is a genuine mystery.