This really doesn't look like much more than a clump of trees ...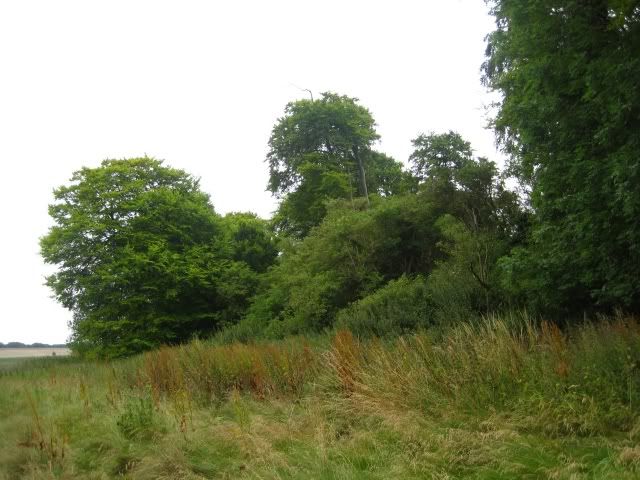 ... but this is, in fact, East Kennett Long Barrow, near Avebury in Wiltshire, a huge neolithic burial mound constructed some time between 3,500 and 2,500 BC. I was there on Saturday.
Everyone, of course, knows about the much more famous West Kennett Long Barrow, a short distance away, but back in its day, the barrow at East Kennett would have been just as important, and just as significant a landmark in this remarkable landscape of sacred hills, ancient trackways, barrows, henges and hillforts.
However, this site has never been excavated, and so its interior construction and contents remain a mystery. In fact, it's not even much visited, as it stands on private land, above the little village of East Kennett.
I genuinely hadn't intended on going to it, due to it being on private property, and had planned instead on looking at it from a distance, from trackways to the east and west, whilst walking a round trip from Alton Barnes to East Kennett and back again. But I took the wrong path off the Wansdyke, and went innocently off down a private track, parallel to the footpath I should have been walking along, not realising my error until I approached the barrow itself, on the brow of a hill leading down into the village. No harm done, an honest mistake, etc., and as I was there, I wasn't going to pass up the opportunity of looking around a very little visited neolithic site.
This is looking back up at the barrow from the (private) track down into East Kennett. One gets a sense of its immense size. One can also see that the trees, which are mostly Beech, are very mature, and have stood there for a long time.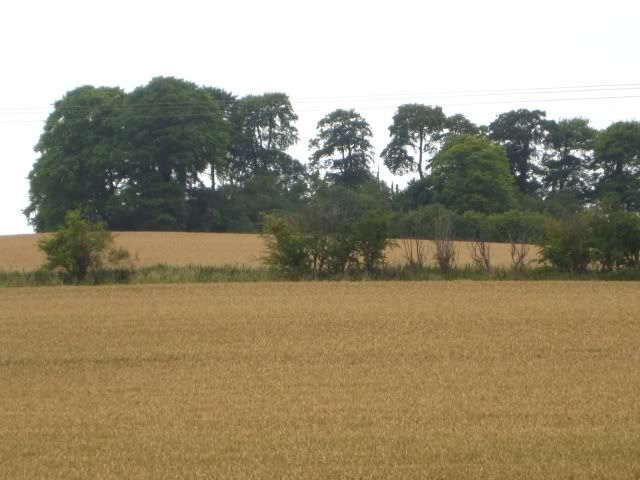 Standing at the east end of the little copse the earthwork rises up steeply through the undergrowth. There are no sarsen stones marking what was once presumably the entrance, as there are at this monument's sister barrow at nearby West Kennett, although fragments of this stone have been recorded nearby that may have once been placed around the barrow before it became neglected. The barrow is very overgrown, and I had to pick my way through clumps of high stinging nettles to get to the top. This shows what a dense thicket it is up there, but with a lovely canopy of Beech leaves above one's head.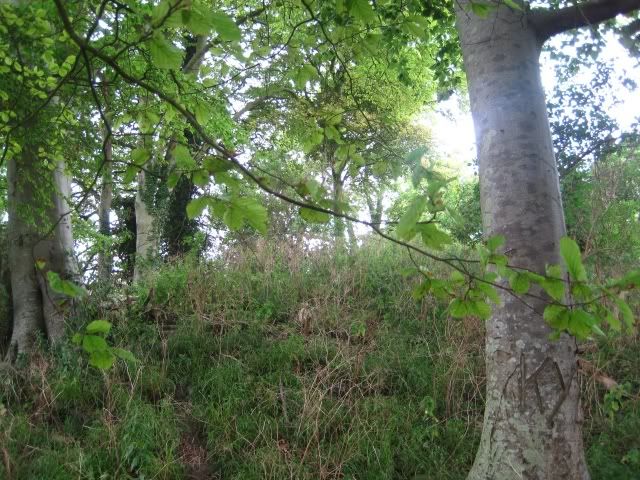 Although it would be interesting to know what's inside, perhaps it's best left like this; cloaked by nature; its long buried inhabitants left in peace. There isn't, therefore, much information on the site, although Julian Cope's
Modern Antiquarian
website has some good field notes, which I took with me to read.
http://www.themodernantiquarian.com/sit ... arrow.html
Climbing back down, I made my way around the barrow and sat in the field, looking out across the landscape. Most impressive from here is the view of the ancient and enigmatic Silbury Hill, just a few fields over to the north-east, which for some reason, perhaps just due to the workings of my mind that afternoon, was looking particularly pyramid-like from that perspective. It cannot be coincidental that this little clutch of two burial mounds and a man-made hill stand so close together in the landscape.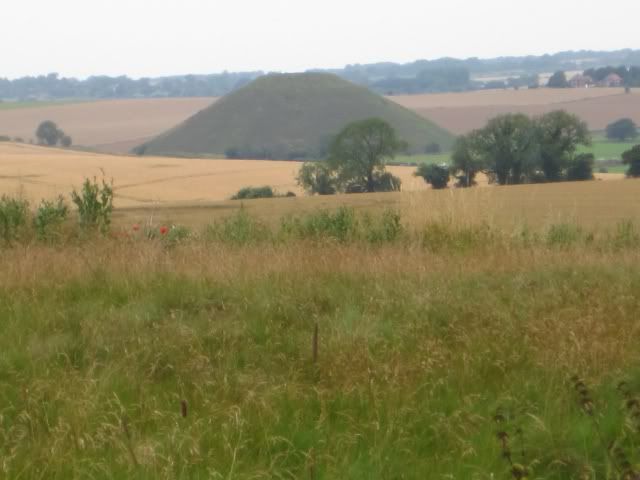 Walking back in a southerly direction, from East Kennett village to Alton Barnes, along the Ridge Way, one of our most ancient trackways, I tried to imagine the huge mound I had just visited without its thick canopy of trees. The juxtaposition of the barrow and Silbury Hill would have made for an arresting sight for those approaching Avebury from the south.
This barrow is perhaps somewhere that is better looked at - from the nearby public footpaths, that is - in winter, without the dense leaf cover, and when the shape of the mound itself would be more easily discernible. But I still enjoyed the experience of visiting East Kennett Long Barrow, even if I shouldn't really have been there.