Robin Hardy's 1973 film,
The Wicker Man
, gets discussed here from time to time, and a recent re-watching for the first time in a while inspired me to add some thoughts of my own. Though likely of interest only to a small number of us, it's such a fascinating film, in terms of the themes it explores, many of which resonate elsewhere on these boards, that I thought it would be worth reconsidering this classic of British cinema, in the context of what it teaches us about pagan beliefs and their juxtaposition with the modern world.
Original film poster
Even those who haven't seen this film will likely be familiar with it as a cultural phenomenon, and also with its basic premise. Based upon a now hard to obtain 1967 novel called
The Ritual
by David Pinner, and scripted for the cinema by Anthony Shaffer, it tells the story of a policeman, Sgt Howie, played by a young Edward Woodward, who travels to a remote island off the west coast of Scotland to investigate the disappearance of young girl. Once there, he discovers a world lost in time, the personal fiefdom of a Lord Summersisle, played by Christopher Lee. Although superficially normal, this is a world that exists outside the conventions of the rest of society, that practices its own version of sexual liberation, that rejects Christianity and holds instead to a set of ancient pagan beliefs, most dramatically manifested in the practice of human sacrifice. In the film's climactic and iconic final scene, Sgt Howie is ceremoniously burnt to death inside a giant wicker man; sacrificed to the pagan gods on May Day, or Beltane, in the hope that this will deliver to the island a plentiful harvest.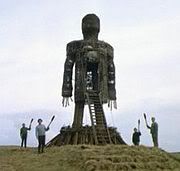 Sgt Howie about to be sacrificed in the wicker man, a ritual that is said to have originated in pre-Christian Gaul
It would be easy to dismiss this film as nothing more than a superior horror flick, a B movie that became an A movie, thanks to a word of mouth reputation that if anything becomes stronger with each passing year, but which, lest one forget, was originally on the undercard of a double bill with
Don't Look Now
. But is it more than that? To what extent does
The Wicker Man
represent an expression of the counter-culture of the time, by seeking to challenge and undermine conventional notions of religion, of family, of sexuality, of what constitutes civic society? Is this pulp cinema, or is this subversive cinema?
In teasing this out, there are three main themes we should consider - symbolism, sexuality and subversion.
The film deploys an array of symbols - sometimes easily identifiable to this viewer as pagan, sometimes less so - throughout its running time, from the sun disc flag that flies above the harbour, and the eye painted on the boat bobbing by the quayside that greet Sgt Howie on his arrival, through to the antlers worn on the heads of those who put him to death at the end. In fact, antlers are a recurring theme, also hanging in abundance in the home of Lord Summersisle, and the significance of this symbol has been referred to by Roscoe elsewhere on these boards. Rabbits are another recurring symbol, although why this should be is less clear to me. Perhaps predictably, the pub on the island is called The Green Man (not an uncommon name at all for UK taverns; there's one near me), and given that the film's plot revolves around the desire to thwart a second successive failed harvest, John Barleycorn - "the life of the fields" - is also heavily referenced. As Lord Summersisle tells an increasingly shocked and bewildered Sgt Howie, "Here, the old gods aren't dead". The idea of worshipping the god of the fields is particularly strong, but in a macabre twist on the normal hanging out of ears of corn, blond pigtails of hair, decorated with red ribbon, are frequently seen on display.
Anyway, the film contains masses of such symbols, - too many to remember, let alone list. The question that perhaps needs to be asked is whether these symbols reference a coherent set of specifically pagan ideas, or whether they serve merely as stylistic window dressing, assembled without too much care for their true meaning. I suspect the former - this is a rather carefully made, and deliberately nuanced film.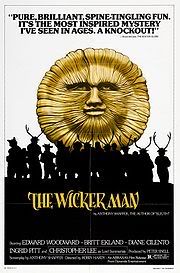 The US version of the film poster, displaying the ubiquitous sun disc symbol
The theme of sexuality is also ever present; or rather, more accurately, the twin themes of sexual frustration and carnal temptation.
The character of Sgt Howie is a man of strong religious convictions; a virgin, his beliefs prohibit sex before marriage. Indeed, his virginity proves critical to the plot, as it makes him a more valuable sacrifice. The general atmosphere of sexual licentiousness that pervades the island - people copulate brazenly in front of him, for example - is an affront to his religious beliefs and sense of decency, but is also the trigger that awakens his own thinly concealed sexual desire. Much of the sense of disgust he displays can therefore be read as self-disgust. Such psychosexual undercurrents permeate the film - in obvious ways, when a dancing nude woman (played by Britt Ekland) presses herself to the adjoining wall of his bedroom, taunting and tempting him, and causing him to almost weep with frustration; and in more subtle ones, such as the daubing of his body prior to sacrifice; a scene that is charged with barely supressed eroticism.
But are the sexual practices of the island being presented as evidence of its people's depravity and moral corruption, or is one being offered a glimpse of an alternative interpretation of sexual mores, as informed by the liberation ideologies and sexual politics of the time?
But if Howie's moraility is constantly being offended, then this is nothing compared to the assault on his religious beliefs that he has to endure.
One of the film's most interesting scenes is when Howie visits the local school. This is a place where Christianity is studied only as a comparative religion; where the classroom blackboard bears words such as snail stones, toad stones and hay stones, and uses the expression Belthane Term in its register.
As the school mistress says:
Quote:
We believe that when the human life is over, the soul returns to trees, to air, to fire, to water, to animals ... life forces in another form.
These sort of beliefs are also evident in the cemetery, the church beside which stands empty and unused, where trees are planted on graves, and where tombstones bear inscriptions such as "Protected by the Ejaculation of Serpents". And in the local surgery, a girl has a toad put in her mouth to cure a sore throat. May Day, of course, is a day of great significance - the Maypole is another of those recurring symbols - as is the concept of making a human sacrifice on this day to ensure a bountiful harvest, which is exactly how the film ends.
But what is truly subversive about this depiction of life on the island is the all pervading air of normality; of this just being the way things are. Little of the imagery traditionally associated with dark magic is present here - this imaginary island is made to appear bucolic, mellow, liberating, even, dare one say it, faintly Arcadian. This is no demonic hell - rather, it is a pastoral idyll. The beautiful way in which the film is photographed accentuates this. Robin Hardy achieves such depth of shot, such an exquisite texture in his composition, that it's a delight to look at. Thin porcelain skies of the palest blue hang over a verdant landscape splashed with soft sunlight, and this makes for some sumptuous images. We are being presented with a world in soft focus that appears on the surface to be an appealing one; a place where the human spirit is liberated from the conventional strictures of a moralistic and censorious society; free to commune with nature in the most literal sense, and with the prospect of sexual delirium.
But for all of the island's earthly delights, there is something rotten at its core, quite apart from the emotional hollowness that by implication could be said to lie beneath its surface pleasures. It is the element of human sacrifice. And so the notion of the island serving as some kind of counter-cultural haven itself becomes subverted, by revealing the dreadful price that has to be paid in furtherance of the island's belief system - the killing of a human being, a ritual murder, something disgusting and terrible, a true heart of darkness in the soft light of paradise. And so the film invites all sorts of contradictory thoughts, by seeming to subvert the status quo, and then subverting its own message.
In any event, it's a fascinating piece of work, thoroughly deserving of the high regard in which is it now held, and a piece of British cinema history. And as the above I hope has shown, it is perhaps a little bit more than that, too.