Gopher Wood, Tan Hill, Wiltshire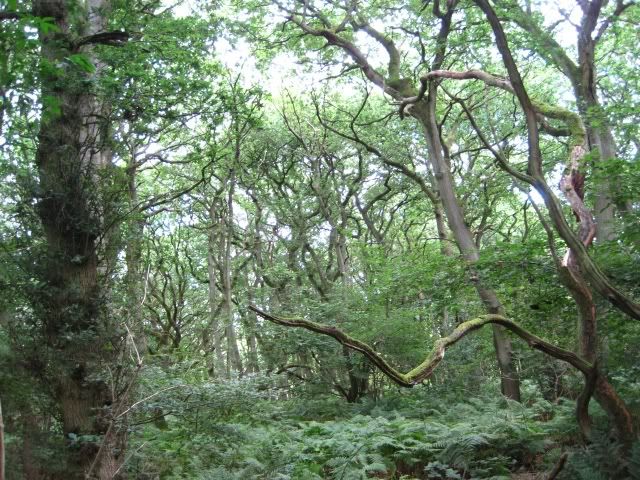 This isn't really one of those threads that's likely to go anywhere, but I thought it was interesting enough to share, albeit it's a small thing. It relates to a religious tradition, so I thought this was the most appropriate topic board to post it in.
I've been spending a lot of time recently on the Pewsey Downs, just south of Avebury, where in the distant past there was a substantial amount of human settlement, and the landscape of which contains several sacred hills, on which are many burial mounds, dykes, enclosures and hill forts. A great place, quite aside from the all the peculiar crop formations of recent days.
On top of one of its hills - Tan Hill - there is a wood, called Gopher Wood.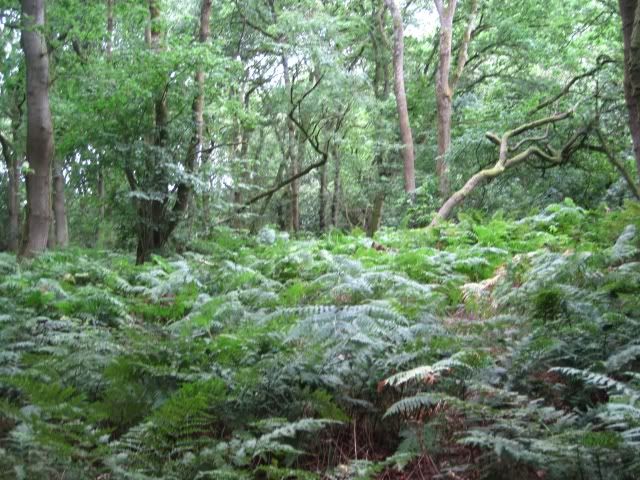 When I first went to this wood, a couple of months ago, I was sufficiently intrigued by the name to look it up when I got home. Gopherwood, as I soon discovered, is referred to in the Bible, just once, as the wood from which Noah's Ark was built. As Wikipedia explains:
Quote:
Gopher wood or gopherwood is a term used once in the Bible, for the substance from which Noah's ark was built. Gen 6:14 states that Noah was to build the Ark of גפר, gofer, more commonly gopher wood, a word not otherwise known in the Bible or in Hebrew.
Its identity has not been established with certainty. Older English translations, including the King James Version (17th century), simply leave it untranslated.
This is the relevant passage from Genesis.
Quote:
6:14 Make thee an ark of gopher wood; rooms shalt thou make in the ark, and shalt pitch it within and without with pitch.
Noah's Ark, Edward Hicks, 1846, Philadelphia Museum of Art, Image from Wikipedia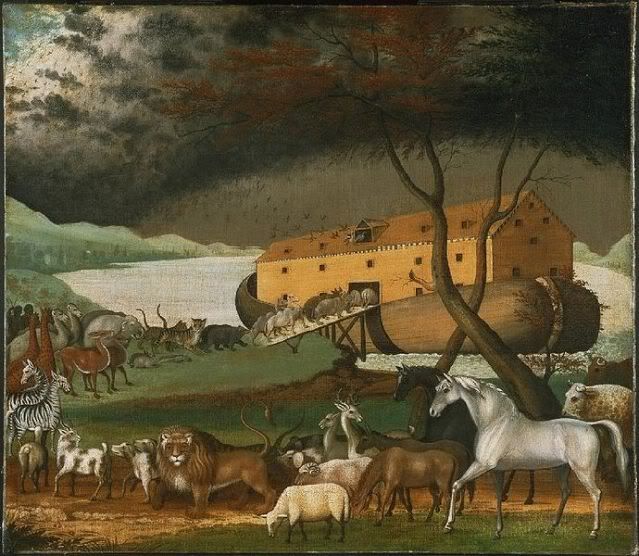 There has been much debate as to the identity of this wood. As Wikipedia continues.
Quote:
The Greek Septuagint (3rd–1st centuries BC) translated it as xylon tetragonon, "squared timber".[1] Similarly, the Latin Vulgate (5th century AD) rendered it as lignis levigatis (lævigatis, in the Clementine Vulgate), "smoothed (possibly planed) wood".
The Jewish Encyclopedia believes it was most likely a translation of the Babylonian "gushure i÷ erini" (cedar-beams), or the Assyrian "giparu" (reed).[2]
Many modern English translations tend to favour cypress (although otherwise the word for "cypress" in Biblical Hebrew is brosh). This was espoused (among others) by Adam Clarke, a Methodist theologian famous for his commentary on the Bible: Clarke cited the resemblance between Greek word for cypress, kuparisson and the Hebrew word gophar.
Other suggestions include pine, cedar, fir, ebony, wicker, juniper, acacia, boxwood, slimed bulrushes and resinous wood, and even American trees such as Cladrastis kentukea (American yellowwood), although the latter did not exist in the region the ark was supposedly built.
Others, noting the physical similarity between the Hebrew letters g and k, suggest that the word may actually be kopher, the Hebrew word meaning "pitch"; thus kopher wood would be pitched wood. Recent suggestions have included a lamination process (to strengthen the Ark), or a now-lost type of tree, but there is no consensus.[3]
Cypress Pine late 12c., from O.Fr. cipres, from L. cyparissus, from Gk. kyparissos, from an unknown pre-Greek Mediterranean language. Perhaps related to Heb. gopher, name of the tree whose wood was used to make the ark (Gen. vi.14).
http://en.wikipedia.org/wiki/Gopher_wood
The Jewish Encyclopedia offers the following interpretation.
Quote:
The material of which the ark of Noah was made. The word "gofer" occurs but once in the Bible, viz., in the expression (Gen. vi. 14). A comparison of the ancient versions shows that the word was just as obscure when they were made as it is to-day.
The renderings proposed by modern interpreters are as a rule arbitrary and unsatisfactory. The identification of "gofer" with "cypress" (Celsius, "Hierobotanicon," i. 328; Bochart, "Geographia Sacra," ii. 4) rests on the mere assumption that the roots of these two words are akin. According to P. de Lagarde, "gofer" stands for "gofrit," meaning originally "pine," from old Bactrian "vohukereti," and latter also "sulfur," on account of the likeness in appearance which sulfur bears to pine-resin ("Semitica," i. 64; comp. "Symmicta," ii. 93, and "Uebersicht über die im Aramäischen, Arabischen und Hebräischen Uebliche Bildung der Nomina," p. 218).Others think that "gofer" can best be explained from the Assyro-Babylonian literature. Cheyne, starting from the assumption that the Hebrew narrative of the Deluge is a mere translation from some similar Babylonian document, supposes that the passage under discussion read in the original "gushure iṣ erini" (cedar-beams). He thinks that first the word "erini" was overlooked by the Hebrew translator, who afterward mistook "gushure" for a tree-name, and accordingly wrote ; next a scribe, whose eye was caught by at the end of the verse, miswrote (Stade's "Zeitschrift," 1898, p. 163; comp. Cheyne and Black, "Encyc. Bibl." s.v.). F. Hommel holds the Hebrew to be the Assyrian "giparu" (reed).
The "kufa" (Arabic, "kufr" = Hebr. "kofer" = "gofer") now in use on the rivers and canals of the land that gave birth to the Hebrew narrative of the Deluge are made of willow-branches, palm-leaves, etc., closely interwoven like basket-work, with a coat of bitumen on the inside. This is evidently a very old type of water-craft, suggested by the natural resources of a land devoid of large trees suitable for ship-building, but having an abundance of lighter material and bitumen. Such must have been the ark of Noah (Hastings, "Dict. Bible," s.v. "Babylonia"). J. Halévy implicitly adopts the same view ("Recherches Bibliques," i. 130).
The reading of the Masoretic text is correct, at least in the consonants. It is none the less certain that in course of time the Assyrian (whether first Hebraized "gefer" or "gofer") became obscure to the Hebrews. This might have necessitated the addition of an explicative clause with a Hebrew word as a substitute for , viz., . This, when the Hebrews had become familiar with the Phenician methods of ship-building, came by degrees to be considered as an absurdity, and was altered into , much against the usage of the Hebrew language and in violation of the most elementary rules of composition, yet seemingly quite in agreement with the early Jewish methods of emendation.
http://www.jewishencyclopedia.com/view. ... 5&letter=G
Another short essay on gopherwood can be found here.
http://www.giveshare.org/BibleStudy/241 ... d-ark.html
From gopherwood to Gopher Wood, this is the wood on the Pewsey Downs, as seen from the slopes of Huish Hill to the east.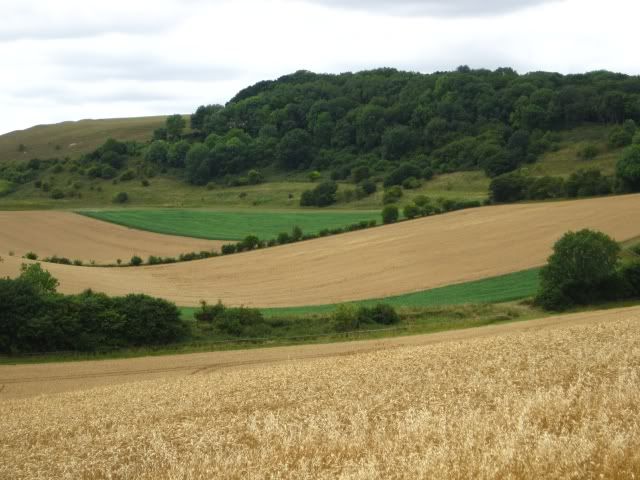 It's very small, barely more than a copse, and a lovely patch of ancient woodland, with an abundance of ferns beneath all the oak, ash and maple trees, and in spring, so I understand, there are masses of bluebells. There are many birds here, including buzzards, lapwings and tree sparrows and, it is said, kestrels as well.
It feels quite primeval as you walk through the rich and verdant environment, with its carpet of moss and ferns on the ground, and its ancient trees, whose gnarled stems and arching branches support a dense canopy of foliage above that does interesting things with the light.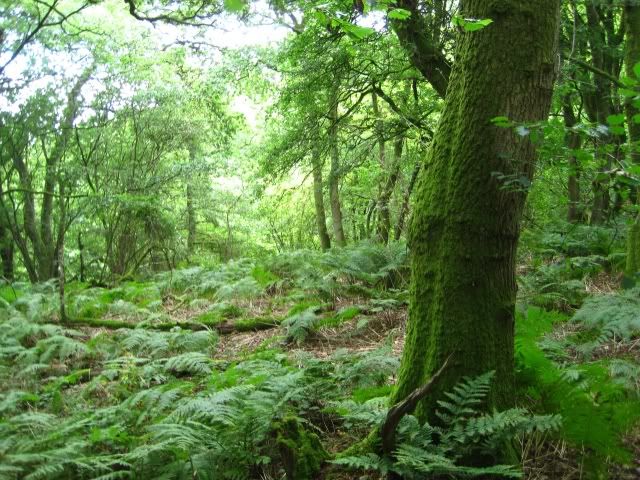 The whole of that escarpment has been designated a Site of Special Scientific Interest under Section 28 of the Wildlife and Countryside Act of 1981. With regard to the specific area of Gopher Wood, the SSSI citation reads as follows.
Quote:
Dominating this end of the escarpment top is Gopher Wood which, although small, is one of the best remaining examples of dry ash-maple woodland in north Wiltshire. Part of the scarp slope is dense over-mature coppice of hazel Corylus avellana, while other areas have a canopy of ash Fraxinus excelsior and field maple Acer campestre. On the deeper and heavier soils on the plateau there is much coppice of both pedunculate and sessile oak Quercus robur and Quercus petraea and their hybrids. Associated with hybrid oaks on the rim of the scarp is a stand of small-leaved lime Tilia cordata. The wood supports a rich ground flora with green hellebore Helleborus viridis, toothwort Lathraea squamaria, herb-Paris Paris quadrifolia and Solomon's Seal Polygonatum multiflorum.
And it is also a site of historical interest, with six scheduled monuments in its environs, according to Wiltshire County Council's archaeology service - two undated bowl barrows (SU16SW604 and SU16SW605), a group of Bronze Age bowl barrows (SU16SW606), and undated bowl barrow overlain by a smaller barrow (SU16SW607), a Bronze Age disc barrow, excavated in the 19th century (SU16SW608), and another pair of Bronze Age bowl barrows, also excavated in the 19th century (SU16SW609).
And it's called Gopher Wood, like in the Bible.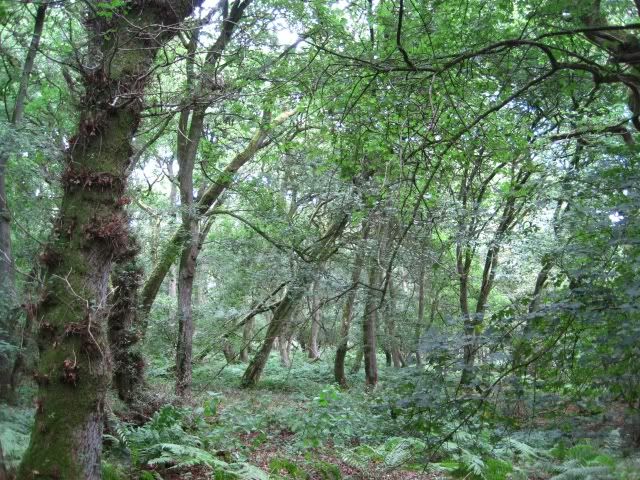 I shall return to the landscape around here more generally on another thread, at another time, since there is much of interest to be found there, particularly its sacred hills, like the Giants Grave, Picked Hill and the Adams Grave barrow. But it is first and foremost an area of great natural charm and splendour that supports a mass of flora and fauna, and unlike the vast, sweeping plains of the valley below, is a place of more intimate beauties, full of hidden treasures, that feels almost cut off from the busy world beneath it, with its little copses and spinneys, meadows and lush pastures encirled by hedgerows, and carpets of wild flowers on the slopes of its escarpments. And much else - a truly inspirational landscape. One can see how our ancestors might have considered it to be a sacred place. And perhaps why they named that wood as they did.