St Peter's Chapel, Bradwell-on-Sea, Essex, a few days ago. This ancient chapel was built by Saint Cedd, who became the Bishop of the East Saxons, in 654AD, and is one of the oldest surviving religious buildings in England. It is still in use today.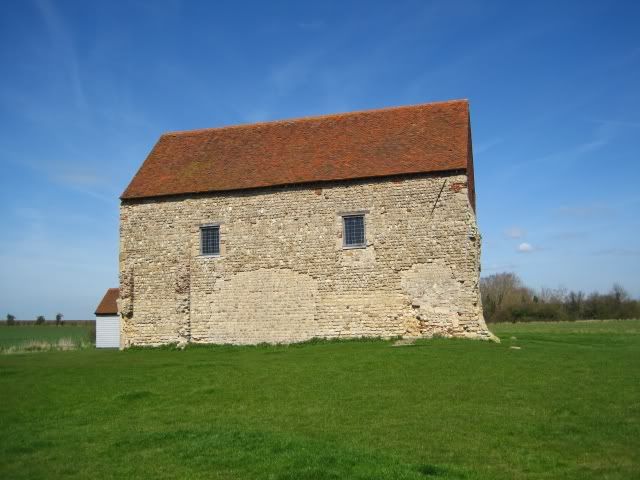 I've always found this to be a beautiful and inspirational place, and it has an interesting history, so I thought it was worth sharing.
Situated in marshland in the far south-east corner of England, looking out across the Blackwater to the North Sea, the chapel stands on the site of a Roman fort called Othona, constructed in the late 3rd century by Carausius, who was known as the Count of the Saxon Shore. After the Romans left Britain it became a village called Ythancestrir, and was referred to as such by Bede in his
Ecclesiastical History
.
Cedd arrived here in 653 with a group of fellow Christians. Cedd and his three brothers - Caelin, Cynebil and Chad - were trained at the famous monastery at Lindisfarne, where while living in turf covered beehive huts, they were taught to read and write in Latin, and schooled in the Christian faith. Cedd was clearly a gifted student and after he was ordained as a priest he was sent on a mission by King Paeda to help bring Christianity to Mercia.
On arriving at Bradwell, Cedd built first a wooden church, and then the stone building that stands there today, using stones from the old Roman fort.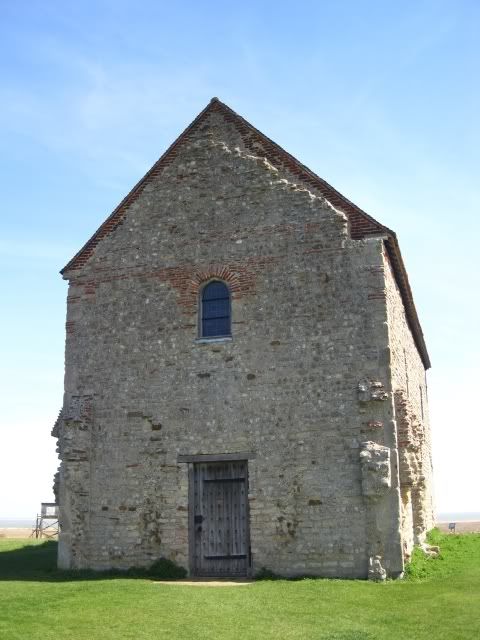 It is said that the church was modelled in the style of those in Egypt and Syria, and that the Celtic Christians were influenced by the story of St Anthony of Egypt building a church from the ruins of a fort on the banks of a river. The Blackwater in Essex was then known as the River Pant.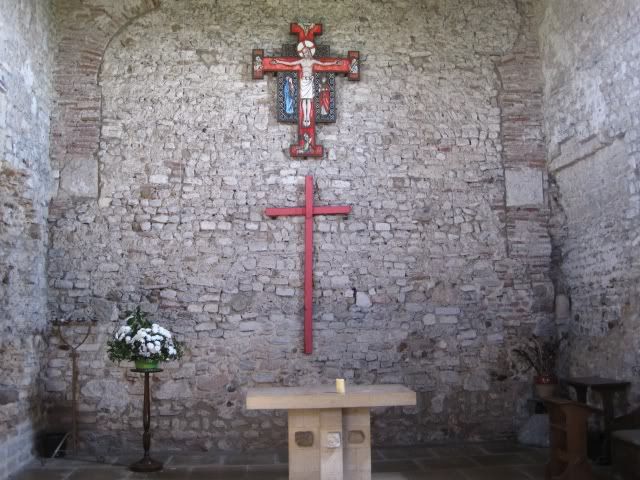 Following the successful establishment of his church at Bradwell, Cedd went on to establish other Christian communities in Mersea, Tilbury, Prittlewell and Upminster, then was recalled to Lindisfarne and made Bishop of the East Saxons. He would later establish another monastery at Lastingham. He would also play an important role at the Synod of Whitby in 664. However, this was sadly also the year in which Cedd died, having contracted plague.
The chapel continued to be used, at least until the end of the 14th century, by which time there was a new, and much larger parish church in the village of Bradwell. By the 17th century, though, the chapel had fallen into dis-use, and became a barn for livestock. But in 1920 it was given back to the diocese, restored, and re-dedicated. It is still a place of pilgrimage, and there is an Annual Pilgrimage event held there on the first Saturday of every July.
The chapel crucifix is another feature of interest. It was dedicated by the Rt Revd Henry Wilson, Bishop of Chelmsford, in July 1949, at the first pilgrimage following WWII. It was created by Francis William Stephenson (1921 - 2002), a painter and stained glass artist who also served with the Special Operations Executive during the war. St Cedd is depicted, with pastoral staff, at the bottom.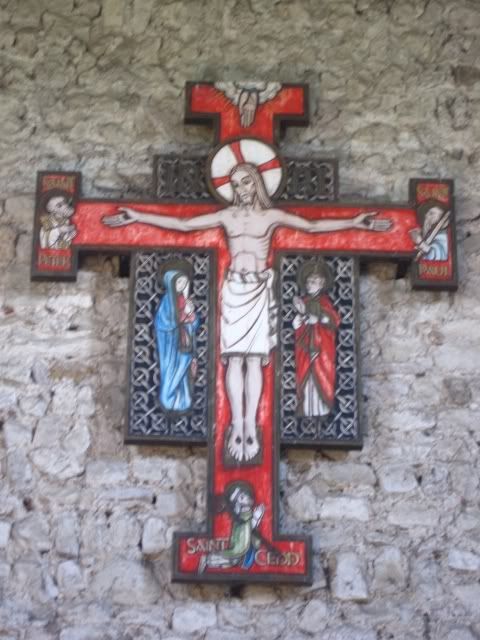 Walking away from the chapel, along the sea wall, and in the direction of West Mersea, one can see another ecclesiastical building, much more modern, on the other side of the trees.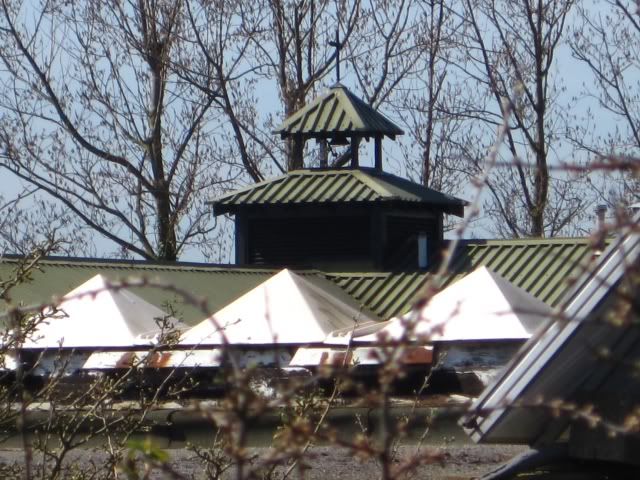 This is the Othona Community - "an open Christian Community, welcoming and involving people of all faiths and none" - which was founded in 1946. Its population fluctuates during the year, but it is in constant occupation. There is another such community in the county of Dorset, in south-west England.
http://www.othona.org/
This stretch of coastline is certainly a place of stark beauty, with its wide open expanses of marshland running out to the sea, and with its big skies, that stretch from horizon to horizon. Being there always makes me think of a Dutch landscape painting. And amidst it all, is the pretty little chapel of St Peter, that has stood for over 1300 years in its remote and wind blasted location. Inspirational to those with faith, I am sure, and indeed to those of us still to find it. I would thoroughly recommend a visit to anyone who ever has cause to be in this part of Essex. And a lovely part it is, too.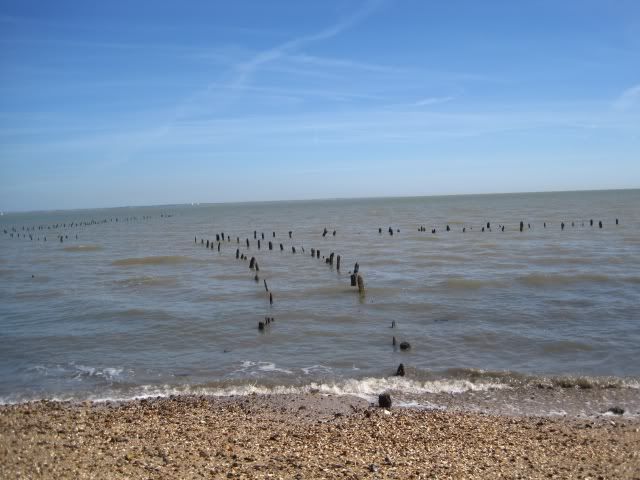 Quote:
At Bradwell, wherever we turn, the sky touches the earth or the sea. There is nothing in between. It is a symbol of the fact that around this chapel built by St Cedd, Heaven seems to touch earth.
Martin Wallace, Untying Celtic Knotwork, 1994