richard.webster wrote:
A small-ish 3D-type formation here, discovered recently in a barley field just outside Winchester.
http://www.cropcircleconnector.com/2012 ... 2012a.html
This is only a couple of miles from me, near to a path I walk along quite often, so if it should stop raining for five minutes in the next few days, I'll wander over and see if I can get some ground shots of it. Not hugely optimistic on either count, due to dire weather forecast (don't mind walking in it, but it's rubbish for photos), and what I imagine will be lie of the land issues in that part of the field, relative to the public footpath on the other side of the road, but I'll have a go.
Well, I saw it, but I couldn't get that close, and the weather was awful, steady drizzle and everything shrouded in mist, quite nice at first, a summer mizzle, everything very sodden, lush hedgerows, etc., but then it really chucked it down. I drove over to the village of Chilcomb, and then walked up Telegraph Hill, and you could see it over on Chilcomb Down, not a bad view, because one was a little bit above it, but very hazy through all the rain. And then I stood there for ages like a bit of a numpty because I could see this little sliver of pale grey sky inching across the South Downs, so I thought the weather might be about to clear, and that's when it started to pour.
Anyway, this is barely worth showing, but this is it, just so I didn't get soaked for nothing.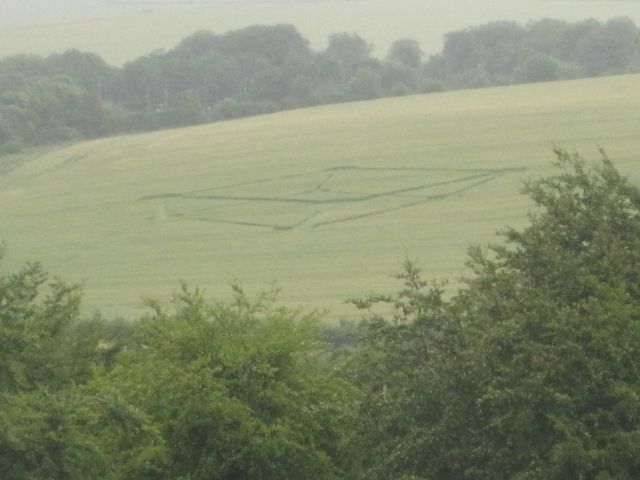 There's probably a better view to be had from another angle, over on Magdalene Down, and it's supposed to be dry tomorrow, so I might try and get a look at it from there.
Off-topic, but just to make a slight segue over to today's Independence celebrations in the US, but the village of Chilcomb, at the bottom of Telegraph Hill, has a very pretty church, called St James, very old, mostly 12th century, whose rector between 1803 and 1812 was John Washington, a relative of the first President.