dave rowett wrote:
TCP WROTE
Quote:
no one who has a qualified background in art has ever suggested such a thing
That is like suggesting we need a weather man to tell us its raining.
More like a grown-up to assure you there's no boogey-man under the bed.
dave rowett wrote:
What kind of art historian is ever going to suggest Mary Magdalene was present at the last supper and was pregnant?
None that I know of, since there is no scriptural or documentary basis for the idea. Baseless claims are the purview of pseudohistorians, fantasists, and conspiracy theorists who consider historical details problematic and troublesome.
dave rowett wrote:
You don't need to be a qualified art expert or historian to conclude that someone is female or male. I don't know about you TCP but I was born with senses which generally tell me which is which.
Well, there's the difference between you and me. I was born with the same base senses (most of us are) but developed (with maturity and education) an enhanced sense of critical discernment - an ability to separate the wheat from the chaff by means of evaluation beyond the mere base senses. Most people have that ability, but apparently that doesn't apply to everyone.
dave rowett wrote:
Most of the paintings discussed here concerning the last supper contain a figure at the side of Christ with no beard, very narrow feminine jaw line, no raised masculin brow or anything suggestive of a male.
How more obvious do you want it to be without painting 'this is Mary Magdalene' across the canvas.
Are these Mary Magdalene too?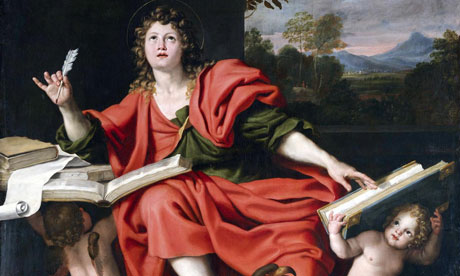 These are all depictions of the young John. Some are rather pretty, aren't they? Now, I can readily understand how someone with no training or ability to view art in its own time and context might look at these and think they're seeing girls, so no fault on you on that score. In fact, some of these images have appeared in the past on websites and forums identified as Mary Magdalene. The webmasters and forum posters didn't take too kindly to being made aware of their misidentification either, I might point out, alleging that the church had engaged in a massive cover-up and that these were, in fact, Mary Magdalene.
dave rowett wrote:
Look at this, it's absolutely blatantly obvious:-
Attachment:
double mm.jpg
Double 'm' then an arrow pointing right at her.
Who knew that every arched colonnade was a big billboard for Mary Magdalene?
dave rowett wrote:
It's too obvious and its happening on too may paintings to be brushed aside.
Really? Can you show us some other examples that have these big 'm's pointing at 'her'...?
dave rowett wrote:
There comes a time when draconian posters on here who accuse some people of being nut cases for observing such things are indeed the nut cases themselves. Draconian die hards who are hanging onto what shreds are left of the RCC's reputation.
I couldn't care less about the RCC's reputation, I'm not even Christian (except on paper, but I had nothing to do with it).
I have to laugh, this entire dialogue reminds me of the opening scene in
The Da Vinci Code
film where Langdon is showing small sections of slides to his students to get their impressions of what they show, only to expand the slides to show them how wrong they are. You are like those students, believing they can see anomalies in small details that somehow change the overall interpretation of the larger work while demonstrating an inability to grasp its larger form and context. Or perhaps it's just an unwillingness to grasp the form and context for fear of losing your self-ascribed sense of brilliance. People like you generally fear establishment because it is the only yardstick against which you can measure your own sensibilities that will always show you to be lacking. So your knee-jerk reaction is typically to condemn what you cannot command. I'd say you have a brilliant career ahead of you as a pseudohistorical author, should you apply yourself, as you have a sufficient degree of disdain for intellect and hysteria for convention to appeal to the tinfoil hat crowd.
dave rowett wrote:
I am in agreement with other posters about what these artists knew, they were either in the possession of an unknown gnostic text, biblical writing of somekind or perhaps were taught this information in a secret society such as masonry.
Well, now all you brave Mag-men have to do is reveal this unknown Gnostic text or unknown stream of knowledge and prove that the artists were promoting it. That shouldn't be too daunting a task for a clever boy with an overactive imagination like you. Maybe then you could expand on what it was these artists hoped to gain by incorporating these telling clues into their artwork, since apparently the only people able to spot them would have been those who were already in on the "secret". Were they forming a hallelujah chorus so they could preach to the choir?
TCP