bergeredearcadie wrote:
Ben said no ? There a passage in his book, can't remember the page, where he pays an nocturnal visit to 'the tomb', and all of a sudden a disembodied female voice gives him abuse (in English). Scary !

Actually i was there when that happened.

It was scary.

But i think one of the crew were probably playing a trick on us ....
It shows me that Ben and Sandy did have a second in which they believed something was there.
It is interesting that you think it was a crewman but your not sure.
No one owned up to it wicked fello or maybe there was a female voice
Pilrig
Quote:
I wondered why the voice was in English. It is a lovely area, no doubt about that but after dark it can get a little bit creepy, or maybe that's just me. We were over last summer and I drove down from Toulouse late at night, and the stretch twixt Limoux and Couiza driving down that valley in the wee small hours, the hairs on the back of my neck began to rise.
And I remember the passage in Rat Scabies and the Holy Grail when the boys are returning to Couiza from RLC late at night and in a thunderstorm, they pass that field full of horses, the field I think just before the junction to Jaffus. Lo and Behold no trace of horses the very next morning. So in the daytime the area is fine but come darkness....But like I said maybe it's just me.
Pilrig your not the only one that has this feeling
You know a bit of the superstitions of the area
The Acadians came from here so here is a bit of speculation on my part
having to do with spirits and such
But hey we are talking about Psychism and Rennes
lets go down the rabbit hole
and remember this is a tale or story that came from the area
Noel Corbu talked about this legend
I think the Bigou Parchment is fascinating and could have been a bit alchemical and I believe the Acadians knew something of this temple which is referred to in the parchment
and there comes a warning with this legend
It has to do with a cave near a river that splits in two and dark spirits hang about it
The Capetians are involved with it
especially Blanche Castile
Sauniere spent time in the Couluers Valley collecting his strange rocks for his grotto
he also purchased land by the Couluers river.
pg 460 of Lost Tomb of the Knights Templar by Ben Hammott
http://benhammott.com/la-rue-tourne-noel-corbu.html
Noel Corbu's movie on Sauniere collecting the rocks along the Couleurs river
La Rue Tourne
Andrew Goughs article and Corjan de Raaf
http://andrewgough.co.uk/rom2.html
Here are the dark spirits that hang around the Capetians
and near the cave by a river that splits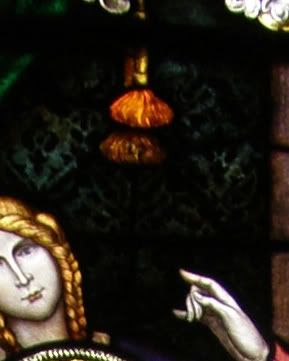 on top of the dark faces there is the reflective reptilian eye of a dragon reflected by the light
Who can the spirits be ?Guardians of the Treasure or Temple?
The Capetians took part in the Cathar genocide ...is it the spirits of the Parfaits or the Crusader knights who guard it
I think Noel Corbu knew very well about this legend and wrote it down
Speculation of course but we are talking the spirit world and talking priests trained in Spiritual works